It may not be technically fall just yet, but the weather is beginning to cool (at least here in the Northeast), the days are getting shorter, and Pumpkin Spice Lattes are back on the menu—so it's basically time to pull out your boots and blankets. And, of course, your stack of fall books. If you need a little guidance, here are the books of the season that the Literary Hub staff loved best—if you read any of them (or read something else great that we missed!), let us know what you think in the comments.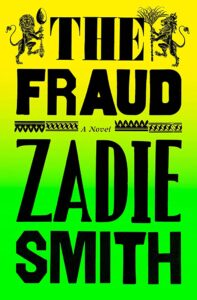 Zadie Smith, The Fraud (Penguin Press, September 5)
Zadie Smith has done what she never wished to do: she wrote a historical novel. Thankfully for her, and for us, she managed to take this form and spin it into something entirely new, a feat only Smith could undertake. The Fraud is about the Tichborne Trials in London in the late 19th century, trials that have fascinated the British public since they occurred, and it's also about the cloistered literary scene of that time, which inarguably will include that larger-than-life, omnipresent figure, Charles Dickens. But even still, it's hard to sum up exactly what this heady, clever book is about. It takes those sturdy plot-points and then shoves them into the background, instead centering on a housekeeper named Eliza Touchet, who serves in the household of William Ainsworth (a once-successful British novelist who has been pushed into obscurity in the past hundred or so years.) Mrs. Touchet is sharp, much sharper than Mr. Ainsworth, and it is in her head and through her eyes we witness this time in history: the mostly male, self-congratulatory novelists she waited on, the household she gave her life to, and the trials that transfixed the nation. It's an extremely smart and involved novel that asks all the right questions about morality and nuance. I would describe The Fraud as I would describe life: it's complicated, deep, ridiculous, scary, and funny. It took a genius to write it, and cements Zadie Smith as the British novelist of our time. –Julia Hass, Contributing Editor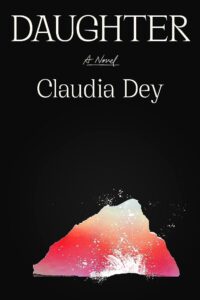 Claudia Dey, Daughter (FSG, September 12)
At one point during my breathless, two-sitting reading of Claudia Dey's third novel, I thought, "Oh! This is a literary Succession." And I was pleased to read Dey referencing that parallel, too. It's almost impossible not to: though Mona Dean, a young playwright who appears frustratingly enigmatic to everyone other than her husband, Wes, and sister, Juliet, is the protagonist of Daughter, it's her father, the former literary giant and beguiling patriarch Paul Dean, around whom the world spins. Paul leaves women and children (most especially daughters) in his wake as he flits from relationship to relationship, absorbing love and affecting innocence, expecting the women in his life—even those he's unceremoniously abandoned—to bolster him, enable him, tell him what to do. I couldn't help but think of Ferrante, too: how the greatest stakes are drawn from the most domestic scenarios, how the sentences sometimes extend beyond themselves and other times conclude in a cold staccato. Never have I felt more tense about a dinner between a father and his adult daughter than I felt in the final scenes of this book.
Dey's last novel was the eerie, original, highly atmospheric novel Heartbreaker (if you haven't read it yet, stop what you're doing and track down a copy—never will you read better prose narrated by a dog), but Daughter is much more in the vein of her 2018 Paris Review essay "Mothers as Makers of Death." In fact, I reread that essay and recognized several images from the novel (when you've got great material, reuse it!). I realize I'm saying very little about plot here, but if you like the Paris Review essay, you'll love this book. –Eliza Smith, Special Projects Editor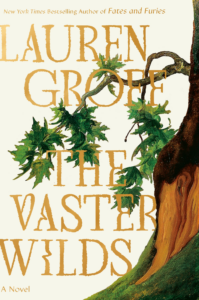 Lauren Groff, The Vaster Wilds (Riverhead, September 12)
Groff's bravura latest is the story of a teenage servant girl who flees from a famished settlement in colonial America, braving the hostile fauna and frigid temperatures of the titular wilds as she plods stoically onwards, first in panicked flight and then in search of some vaguely imagined salvation. As she forages for food, takes shelter from the elements, slinks away from predators, and suffers through bouts of fever and injury, she looks back on a life of servitude that began in a hellish English poorhouse and ended in a godforsaken colony on the other side of the ocean. The girl recalls the cruelty of her mistress' son, the vanity and hubris that prompted the family's voyage to the New World, the frailty of the doomed child in her charge. Groff's depictions of the untrammeled natural world, in all its beauty and brutality, are gorgeously rendered, as is the psychological portrait of her indefatigable protagonist, whose light blazes and then dims as her fortunes change. To be honest, I came into this one anticipating a bit of a slog, but instead found myself transfixed, and awestruck by the end. –Dan Sheehan, Book Marks Editor-in-Chief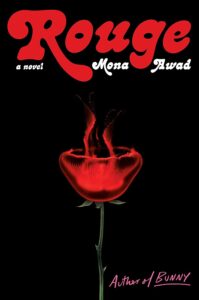 Mona Awad, Rouge (Simon & Schuster/Marysue Rucci Books, September 12)
The latest novel to emerge from Mona Awad's wonderfully deranged brain hits me unfortunately close to home: that is, right in the self-care. In it, a lonely woman (who is of course named Belle) who is obsessed with watching skincare videos (and with following their instructions religiously) finds herself dealing with her estranged mother's affairs after she dies mysterious—affairs that include a crumbling condo, a sexy window washer, thousands of dollars in debt, a magical (?) pair of red shoes, and a spa (?) called La Maison de Méduse, whose treatments are beyond anything that Belle had ever imagined. Of course this is a Gothic fairy tale about the beauty industry, and the novel is much more about vibes than plot, but the vibes are immaculate, as the kids say—if by "immaculate" the kids mean albino jellyfish and tiny keys and Tom Cruise coming sexily out of a mirror, which I think they do. –Emily Temple, Managing Editor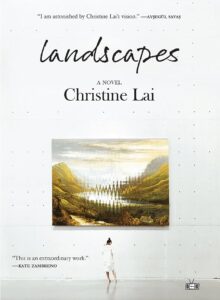 Christine Lai, Landscapes (Two Dollar Radio, September 12)
A quiet, melancholic novel set in a near future when climate change has reshaped the world, Christine Lai's debut novel follows an archivist named Penelope as she catalogues the library of the English country estate she's lived in for the past two decades. Mornington Hall, once a grand home, now serves as a crumbling refuge for people displaced by climate disaster; Penelope lives there with her partner, Aidan, who grew up in the house, but they've been forced to sell it, and it will soon be demolished. In an act of good will, Aidan and Penelope have invited Aidan's estranged brother, Julian—a violent and materialistic man, who Penelope once dated—to say his goodbyes to Mornington. As Penelope hurries through the archive, and mourns the loss of great art in this era of peril, she also revisits the trauma that Julian inflicted.
This all might sound devastating—and it is!—but there's also something strangely beautiful and comforting about the ways that Penelope and Aidan are responding to their slow apocalypse: by making their world smaller and helping others, and accepting the heartbreaking temporality of all things, even art. "Each time I experience a sense of loss," Penelope says to us, "I remind myself that none of this was mine to begin with, and none of it was as important as it seemed." It's a difficult perspective to accept, and yet one that we'll likely face, if we haven't already. –ES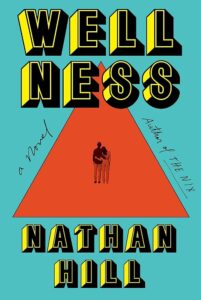 Nathan Hill, Wellness (Knopf, September 19)
If you, like me, have been waiting impatiently for the last seven years for the follow-up to Nathan Hill's rich, toothsome, very funny debut The Nix, you won't be disappointed by his triumphant sophomore novel. It's to this books credit that it makes me want to rely on the trite language of blurbs. Unputdownable, whip-smart, keenly observed—they all fit! Wellness tells the story of Jack and Elizabeth, who meet (cute) as artistic college students in the '90s in Chicago, and who then, for better or worse, grow up together. Years later, they've fallen into the bourgeois routines and grievances of life as married parents, and into the thick of some not-so-cleverly-disguised cults that prey on the disaffections of middle age. Ultimately, this is a warm, wise, and deeply readable story about a marriage, and (sorry. Sorry!) what it means to be human. –Jessie Gaynor, Senior Editor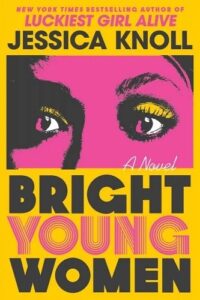 Jessica Knoll, Bright Young Women (S&S/Marysue Rucci Books, September 19)
Jessica Knoll is a careful writer, and this, her third novel, is a perfect match for her cold dissection of social mores and her fierce rage at misogyny. Knoll takes on the story of Ted Bundy, told from the perspective of a student who survives a horrific attack on a sorority house. She then must fight to preserve her sisters' dignity and get the truths of their last moments as the world around them fetishizes their killer and attempts to make jokes of their deaths. Some may claim that the crime genre is rift with misogyny; those people have not read Jessica Knoll. She tears apart the restrictive world of women's roles and lays bare the purpose of such hobbles: to keep women from making a scene, to keep them from seeking justice, and most of all, to keep them from seeking their own lives. –Molly Odintz, CrimeReads Senior Editor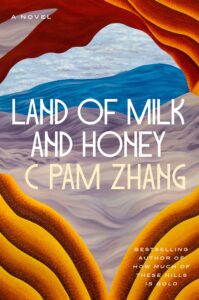 C Pam Zhang, Land of Milk and Honey (Riverhead, September 26)
If you're vulnerable to feeling that we are living through a kind of pre-apocalypse, you will likely find a lot to chew on in C Pam Zhang's lightly ~antihuman~ story about the world after smog engulfed America and vaporized the world's animals and plants. In Land of MIlk and Honey, the narrator is a chef who finds her way to a mountaintop in Italy where her employer has cultivated a farm full of forbidden meats, salvaged seeds, and genetically modified grasses that taste like honey and other lost flavors. There, she earns her keep cooking haute cuisine for the global elite who have a taste for suffering, above all else (eat the rich!), and is required to inhabit the costume and name of her employer's missing wife, Eun-Young, in the process becoming attached to Eun-Young's daughter Aida. Zhang is very good at writing the world in a way that is prosaic enough that overdone ideas about capitalism, nationalism, and classism feel new and fresh. Land of Milk and Honey feels quintessentially like a pandemic novel, but leaves an intriguing aftertaste—Pig meets Noah's Castle meets Steinbeck. –Janet Manley, Contributing Editor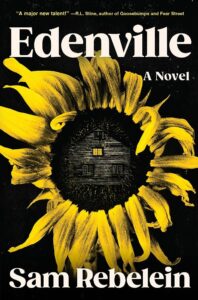 Sam Rebelein, Edenville (William Morrow, October 3)
My friend Emily Hughes described this to me, before I read it, as "if Stephen King and Terry Pratchett wrote a riff on The Library at Mount Char"—and if that sentence means something to you, I'll bet you're already hooked. If you need a bit more enticement: Campbell P. Marion, a should-know-better millennial horror writer, decamps from Brooklyn for a teaching gig upstate, bringing along his girlfriend Quinn (who isn't quite sure about Campbell or the gig or the area, having grown up there and experienced some its weirdness first-hand). He's also been having weird dreams and the staff of the creative writing department seems to know all about them—and all about Campbell, in general. To say more would be criminal: Rebelein's debut is its own wild and woolly beast, frequently unpredictable and frankly utterly insane at times. I feel like Rebelein and I must've ingested a lot of the same weird stuff as a kid—stuff like Goosebumps, Eerie Indiana, Barnes & Engle's Strange Matter. I hope I get to go back to Renfield County again, before too long. –Drew Broussard, Podcast Producer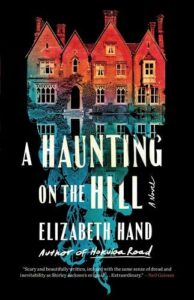 Elizabeth Hand, A Haunting on the Hill (Mulholland Books, October 3)
Elizabeth Hand's new novel A Haunting on the Hill marks the first time a novelist has been permitted by the Shirley Jackson estate to continue the story of the The Haunting of Hill House, and this makes perfect sense. Since Jackson, there have been few writers as capable of summoning atmospheric foreboding tones through elegant prose stylings as Elizabeth Hand. And, like Jackson, Hand's specialty is bringing creepy places to uniquely unsettling life (like an amusement park in Gilded Age Chicago that becomes the hunting ground for a serial killer, or a luxury property in present-day Hawaii where interlopers vanish without a trace), and A Haunting on the Hill is another triumph in this vein. It's a marriage made in heaven. Or, really… hill. (Sorry.) –Olivia Rutigliano, CrimeReads Associate Editor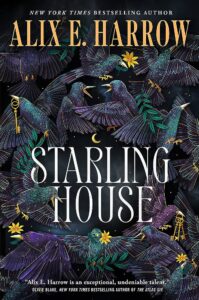 Alix E. Harrow, Starling House (Tor Books, October 3)
Harrow's The Ten Thousand Doors of January is one of those books where people who've read it fall all over themselves to push into other readers' hands (I am one such person) and her growing legion of devoted readers will be happy to know that Starling House is a full-bore masterpiece. Harrow takes the fiery sense of justice and family that lit the engine of The Once and Future Witches, grafts on an aching and honest depiction of life in coal country, and wraps it all up in the story of a haunted house for the ages. It's a misty eerie aching book, the kind of story that earns all the gauzy instagram filters that'll get washed over photos of the book on porches or near cups of tea and blankets. There might not be witches here, but there's no better place to get your hocus pocus this spooky season than Starling House. –DB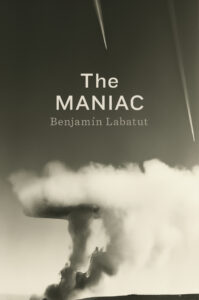 Benjamin Labatut, The MANIAC (Penguin Press, October 3)
Yes the end of Oppenheimer is a really unsettling contemplation of the nuclear age, but have you even read Labatut, bro?
When We Cease to Understand the World took the literary world by storm two years ago, ending up on all kinds of honors and lists—and now Labatut delivers his first novel in English, another semi-factual tale of great figures in recent history. This time, it's about (mostly) John von Neumann and the computing revolution. If WWCTUTW built towards that great aching black hole that was the atomic bomb, The MANIAC arrives not a second too late to help us make sense of the burgeoning AI revolution. It will still drive mad the readers who need a more distinct line between fact and fiction, but Labatut's smooth prose and steady hand on the narrative tiller should win him even more converts. It's a necessary book, a harrowing one, and it will change the way you look at the world around you (or the device on which you're reading this article). –DB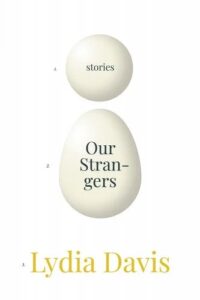 Lydia Davis, Our Strangers: Stories (Bookshop Editions, October 3)
New work from Lydia Davis is always cause for celebration—but this new collection of stories isn't just a book. It's also an experiment: if a book is published without being distributed to Amazon, will it still make a sound? (It's being distributed only to independent bookstores and through our friends at Bookshop.org)
It'd be a worthy effort even if the book was second-rate—but happily, the collection is a delight through and through. Some of the stories are barely as long as their titles, many of them are lightly off-kilter in one way or another, and I found it best read like a poetry collection: dip in, dip out; read one every night before bed for a week, then put it aside and pick it up again later. A good read and a good cause—an experiment worth investing in. –DB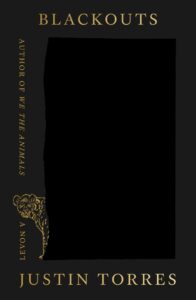 Justin Torres, Blackouts (FSG, October 10)
Justin Torres's first novel, We the Animals, has become something of a contemporary cult classic since it was published in 2011. It's no wonder—it's a lovely, lyrical book, heartbreaking and heart-bolstering in equal measure, and for the book nerds out there, it does something very deft with point of view. Like many slim, intense, poetic novels, it feels like something just a step outside the ordinary. I remember, reading it a dozen years ago, feeling as though Torres had opened a kind of door. This can be a novel?
Now, finally, Torres is back, with another book that stretches the boundaries of the idea of the novel. I'm less naïve now. I know anything can be a novel. But I was still surprised and enchanted by Blackouts, in which a young man sitting at the deathbed of an older man, as they tell each other the stories of their pasts.
For Juan, the dying man, those stories revolve in part around a book, Sex Variants: A Study of Homosexual Patterns, whose heavily redacted pages appear in this book, and the mysterious Jan Gay on whose research it was based. This is a real book. Also real are the artifacts, photographs, documents, and works of art that are interspersed throughout the pages, mostly without direct acknowledgement or explanation, but which work to create a strange dream-like, reality-like patchwork, compelling and alienating at once.
This is a book about erasure and time, about storytelling and art and science, and also, if you'll forgive me, about love. I couldn't put it down. –ET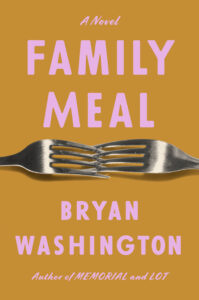 Bryan Washington, Family Meal (Riverhead, October 10)
Bryan Washington is as prolific as they come; this is his third book in four years, including two novels and a book of short stories. Washington, as an author, seems to have a certain project in mind, using and reusing specific places and themes in his work, trying to get to the center of it, the meat of it. This tactic always reminds me of T. S. Eliot's line: "a heap of broken images". When image and place continue to haunt an author throughout their work, it feels so honest and clear that they have a story to tell about these things, maybe still trying to get it exactly right. For Washington, these places and themes are Houston, Japan, food, grief, family, sex, and friendship. They're all tied together too, they're all about intimacy, trying to find home. Family Meal is about Cam returning to Houston after the death of his partner, as he tries to rebuild his life and his relationships with those he left behind in Texas. The depiction of his relationship with TJ, his sometimes stand-in brother, sometimes best friend, sometimes hookup buddy, is such a recognizably messy portrayal of queer friendship. Washington has carved out a voice for himself, with his spare, colloquial dialogue, and his portrayals of the dissonance between the casual, distant sex his characters engage in, and the domestic scenes they crave and return to: someone waiting on the porch, someone driving them home, and always, something cooking in the kitchen, someone waiting to eat it with you. –JH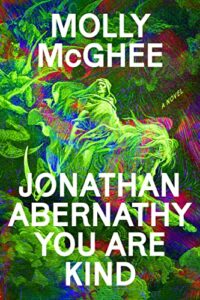 Molly McGhee, Jonathan Abernathy You Are Kind (Astra House, October 17)
I do love a high concept, even (especially?) if it makes me sad. In Molly McGhee's debut, Jonathan Abernathy is, in his own words, "a failure in all things." Most of all, he is a failure in being financially solvent, and having defaulted on his debt, he finds his way to Archival Office 508, where he is given a job as a dream auditor—that is, cleaning up the dreams of unknowing American workers, so that they can worker harder, better, faster, and longer in their waking hours. Except that he begins to recognize some of the dreams, or maybe its that the dreams do not necessarily stay dreams, and soon the distinction between Jonathan Abernathy's "work life" and Jonathan Abernathy's "real life" begins to blur, with disastrous effects. All of this is rendered in McGhee's clipped, knowing, and often very funny prose, which somehow manages to infuse the book with both levity and dread. Just like late capitalism, you know? –ET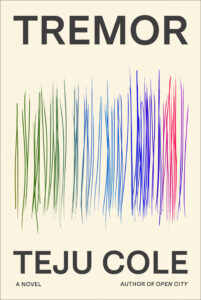 Teju Cole, Tremor (Random House, October 17)
In music, you can change the shape pf the note head to indicate vocal effects (screaming, shaking, a non-pitch pitch), something I remembered while reading Teju Cole's Tremor, a novel bookended by the thoughts of Tunde, a West African born Ivy-league professor and photographer who is fixated on the difficulties of portraiture, and the inadequacy of human efforts to mark a death. Also, by extension, the untold stories and deaths attached to the atrocities that shaped the current world map. The voices in the book include a small anthology of Lagosian storytellers, and issue from Tokyo and Cape Town and Lahaina and Beirut and Mali and outer space. The story is short and long at the same time, just like life, with small moments like Tunde lying in bed with his wife Sadako trying to fall asleep, or watching a walking school bus of toddlers go by ("a segmented brightly colored crocodile making its way along the sidewalk") stretching into something bigger. Cole is very good at inventing within the novel—it's notes, but they sound like nothing you've heard before or know how to name.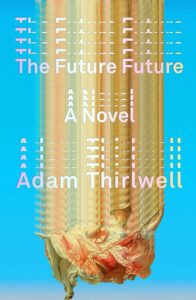 Adam Thirlwell, The Future Future (FSG, October 17)
I guess this is technically a historical novel about the rise and fall of one woman's fortunes in a rapidly changing world. Marie Antoinette is in it, if that gives you a sense of the period. But Thirlwell renders it all in a contemporary attitude, with contemporary language that underscores how little some things have changed—particularly the systems of power, and the ways in which we use writing to defame, deface, connect to, and save one another. More importantly, this novel is a joy to read: extravagant and funny and insightful about the nature of experience and love and gossip, with sentences that trip and shimmer off the page. Like all of my favorite books, it is like nothing I've ever read before. –ET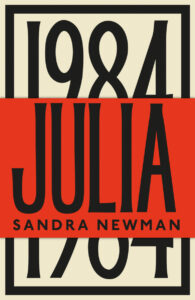 Sandra Newman, Julia (Mariner Books, October 24)
SEXCRIMES WITH THE TOTALITARIANS. That's what I might have called the feminist retelling of George Orwell's 1984, which this time focuses on the larger story of Julia, Winston Smith's sexy mechanic paramour. Sandra Newman is at home peeling the contradictory threads of womanhood from patriarchy (see also: The Men), and here she boosts the unsung hero of 1984, starting by acknowledging outright the limited intellectual firepower of Winston, and broadening the novel's lens to take in to the lives of Airstrip 1/Oceania's "Future Now" women who carried babies for Big Brother, and then expected to be vaporized. O'Brien, the big bad in 1984's Room 101, is revealed to be a mansplainer—a prisoner inside the Ministry of Love tells Julia that she was the one who came up with the catchphrase about a boot stamping eternally on a human face: "The man never had an original idea in his life."—and Julia's experiences go deeper than horror, love, and hate, extending to the distress of boredom, of revulsion, of pity. I can't remember who said it, but doublethink: isn't that what women have to do everyday? –JM
Jesmyn Ward, Let Us Descend (Scribner, October 24)
Jesmyn Ward does not miss. The fourth novel from the two-time National Book Award winner, MacArthur "Genius" fellow, and heir apparent to Toni Morrison is every bit as haunted, furious, and beautiful as 2017's Sing, Unburied, Sing. Let Us Descend, Ward's first full work of historical fiction and her first novel not set in the fictional Mississippi town of Bois Sauvage, begins in the rice fields of Carolina, where Annis' fearsome, loving, rock of a mother—the daughter of an African warrior woman sold into bondage—is stripped from her arms and sold down the river. Annis soon suffers the same fate and finds herself on a death march to New Orleans, where she is bought by the mistress of a hellish Louisiana sugar plantation. All the while, Annis communes with, and rails against, the elemental spirits once called upon for guidance by her mother and grandmother. The powerfully conjured horrors of the antebellum South are infused with a sort of meditative magical realism, as Annis searches for solace, strength, and answers in the vault of her memory and the mists of the world just beyond this one. Let Us Descend is another triumph. –DS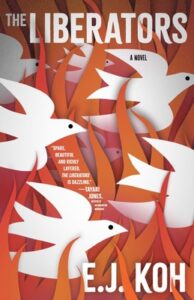 E. J. Koh, The Liberators (Tin House, November 7)
At the height of South Korea's military dictatorship, and in the wake of a shocking loss, young couple Insuk and Sungho (with Sungho's bilious mother-in-law in tow) move to California. Now a young mother, still hobbled by grief and cruelly isolated within her own household, Insuk begins an illicit relationship with an enigmatic fellow exile. That brief synopsis only scratches the surface of what this kaleidoscopic work of politically-charged fiction is all about. A family saga which manages to infuse the historical with the mythic, blend the epic with the intimate, this extraordinary debut novel from E. J. Koh (The Magical Language of Others) is an exquisite portrait of a divided and brutalized nation, and of a diaspora attempting to process and transcend the traumas of the past in order to find some measure of peace. Koh, who is also an award-winning poet, brings a fierce lyricism to some of Korea's most horrendous national traumas while never losing sight of the quiet internal struggles of the individual. Oh, and there's a chapter from the perspective of an aging dog that will shatter your heart. –DS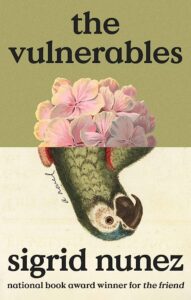 Sigrid Nunez, The Vulnerables (Riverhead, November 7)
While it's easy to recommend a book by Sigrid Nunez, it's harder to blurb a book that's essentially a series of meditations on what it means to be alive (not unlike her National Book Award winning The Friend). Also narrated by a solitary female writer, largely unplotted and peppered with ruminations on friendship, writing, and existence itself, Nunez's ninth novel is a reading experience—existential, beautifully written, funny, and even hopeful. The Vulnerables takes place in the early days of lockdown at the start of the pandemic, where a "vulnerable" older writer takes up residence in a friend of a friend's luxury New York City apartment to look after their "spirited" parrot—a miniature macaw name Eureka. The bird has been abandoned by its bird-sitter, a young college student, but the student soon returns and they (Eureka included) become inadvertent roommates. Inside the apartment there are small kindnesses, outside there are empty streets and the unknown. But throughout, there is Nunez's guiding light, revealing with almost perfect clarity what it means to be here, at this moment, in crisis. –Emily Firetog, Deputy Editor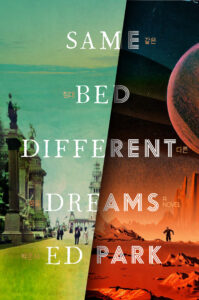 Ed Park, Same Bed Different Dreams (Random House, November 7)
I'm in awe of this book—a brilliant postmodern romp rife with nested narratives, imaginary novels, and ecstatic digressions, which happen to be all of my favorite things. It's a breath of fresh air, really—novels are never ambitious in quite this way anymore, and I almost forgot how good it feels to be dunked in someone else's extravagant puzzle-making. (The brain-exploding qualities call to mind Infinite Jest while being much friendlier to read; I suspect it will be widely compared to Pynchon, and probably DeLillo, but Park's moment-to-moment generic flexibility also brings peak David Mitchell to mind.) Though the novel takes us what feels like a million places, the core of the book is wrapped around an alternative history of Korea, one in which the Korean Provisional Government, a government in exile formed in response to Japanese occupation in 1919, never disbanded, and rather continues to operate in secret to this day. And yes, if like me, you can't remember anything from your history classes to save your life, reading this book will probably spool outward into several other connected reading rabbit holes, but it will all be so interesting that you will not complain. –ET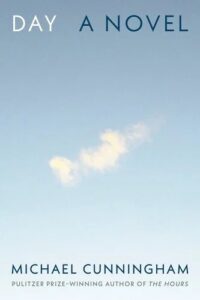 Michael Cunningham, Day (Random House, November 14)
Michael Cunningham's latest novel is, I believe, his best work yet. Day follows a family—Dan and Isabel, a married couple drifting out of love; their two young children, Nathan and Violet; Isabel's brother, Robbie, a struggling public school teacher who has long nursed a possibly-reciprocated love for Dan—on one April day, across three years, beginning in 2019. I wasn't sure I was ready to read a true novel of the pandemic, but Cunningham captures the loneliness, the complexity, the fear, the tenderness of the crisis so beautifully that I didn't want to stop reading, even when the book was over. (Finishing it left me slightly bereft.) On its own, every sentence is a marvel—poetic without ever tipping into maudlin, perfectly attuned to the beauty of the quotidian—and taken together, they reveal an absolutely stunning portrait of humanity, of a time most of us are just barely beginning to sort through, but which Cunningham has managed to turn into a masterpiece. –JG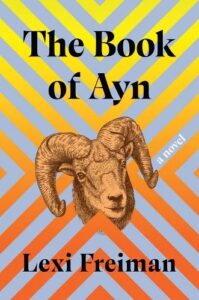 Lexi Freiman, The Book of Ayn (Catapult, November 14)
A firecracker of a book, The Book of Ayn, is one to tear through. It zooms all over the globe and tramples over ideas and virtues and identities, and I mean this all as a compliment. Anna, a 30-something writer whose novel was "canceled" by The New York Times falls into the writing of Ayn Rand and makes it her whole personality. It's irreverent and ridiculous, sarcastic and flippant, and also there's something very real at the core, something tender, as Anna searches deeply for meaning in a culture of vapidity and reactionary politics. Lexi Freiman is a step ahead of the reader at every page: if you start to make a judgment about the protagonist, there it is in writing in the next line. If you start to wonder something about the world or her circumstances, there she is answering your unspoken question. I'd compare it to Tell Me I'm an Artist by Chelsea Martin in its powerful voice, extreme wit, and incisive observations about the world and artistry in general. It's a bold take on political culture, virtue signaling, and the attempt to be unique and also right in a world such as ours, and it manages to do it all with humor and depth. –JH