The 39-year-old quarterback was playing his very first game with the New York Jets on Monday when he was tackled after his fourth snap by Leonard Floyd of the Buffalo Bills. Rodgers landed on his leg on the MetLife Stadium turf and tore his left Achilles tendon.
"I'm completely heartbroken and moving through all of the emotions, but deeply touched and humbled by the support and love," the four-time MVP wrote Wednesday on Instagram. "Please keep me in your thoughts and prayers as I begin the healing process today."
Rodgers thanked "every person that has reached out," saying "it has meant a ton to me." The recently christened Jet said he was "proud of my guys" for winning Monday's game 22-16 against the Bills.
"The night is darkest before the dawn," Rodgers wrote. "And I shall rise yet again."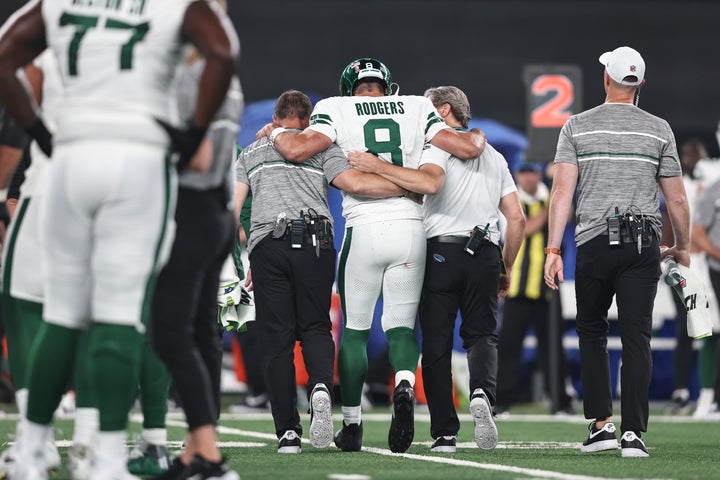 "I feel more for Aaron than anyone," head coach Robert Saleh told reporters Tuesday. "He's invested so much into this organization, so much into this journey that he's embarked on and wanting to be a part of what we've got going here."
"And how much he's invested in not only this organization, but his teammates, himself, this fan base, the city, so I have a lot of emotions for him," Saleh continued. "As for us ... it's really all about him. It is. I don't look at it like, 'Woe is me here,' for the organization."
Rodgers was also awash in support in the comments of his Instagram post, with well-wishes from actors like Aaron Paul and Jeremy Renner, organizations like the NFL and the Green Bay Packers, and fellow football players including Laken Tomlinson and George Kittle.
"Every fan of the Jets appreciates the way you've embraced this team and this city," ESPN anchor Mike Greenberg wrote in the comments. "Get well legend, can't wait to see you back out there."