Rep. Adam Schiff (D-Calif.) says Donald Trump spoke volumes when he declined to say whether he called any military or law enforcement authorities to quell the Jan. 6, 2021, attack as it was underway.
"I thought that was one of most telling exchanges of the interview, because he won't say who he called, because he called no one to put an end to this," Schiff told CNN's Jim Acosta on Sunday.
"He sat there for hours watching the Capitol be attacked. He sat there in the comfort and security of the White House dining room and watched that mayhem unfold," he added. "People came in to urge him to do something, to say something, and he rebuffed them. No wonder he doesn't want to answer the question."
Schiff was discussing Trump's interview with "Meet the Press" anchor Kristen Welker, which aired Sunday.
During one particularly outrageous exchange, Trump sought to blame Rep. Nancy Pelosi (D-Calif.) for the Capitol riot, claiming the then-House speaker was "in charge of security" and could have prevented the violence if she'd accepted Trump's offer days earlier to bring in the National Guard.
This is false on many levels and has been comprehensively debunked. The House speaker is not in charge of Capitol security, for starters, and there's no evidence Trump ever issued such a directive.
Trump supporters hunted for Pelosi after breaching the Capitol, broke into her offices and left threatening messages.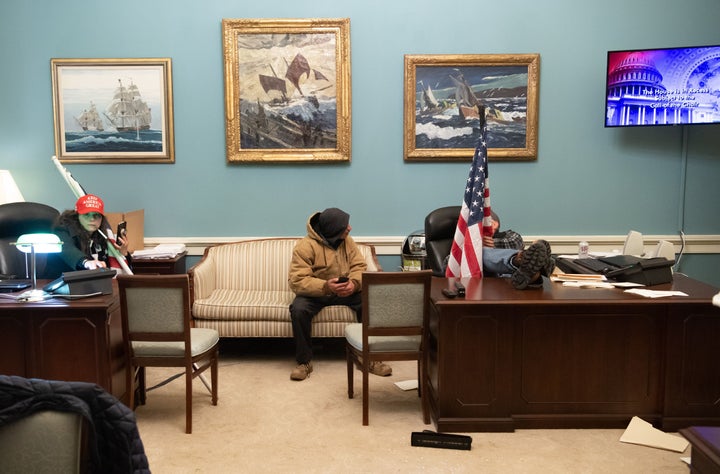 Trump made the Pelosi claim as Welker repeatedly pressed him to say whether he called military or law enforcement to subdue the violence as the Capitol was under attack.
"I'm not going to tell you anything," Trump said.
Schiff said the Pelosi blame was "also typical" of the former president.
"He does nothing but project on to others his own lack of action, lack of morality, but it doesn't fool anyone," he said.
In her own response to Trump's comments, Pelosi said something similar.
"He knows he's responsible for that, so he projects it onto others," she told MSNBC on Sunday.
Watch Schiff's interview below.