my boys / so fulla gumption &
appetite/ I cd feed em all the day
long/& they'd still/ come back for
somethin/ anythin' at all/ problem is
they growin hand over fist/ they growin'
& that cd mean some trouble
comin/ trouble comin every which way
cd be some beggah boy wit
a knife or a gun/ cd be a drive-by
mistake cd be the police/ tellin
my boys to put they hands right
where they got em/ locked b'hind
they necks/ looks now they practicin'
for what they think is they fate
i'ma pray on that/ Lord don't let
my boys play just thata way
no more/ they got no call to lock
they hands that a way & I surely don't want em to
lord/ let em be children
just a bit longer
til they men.
__________________________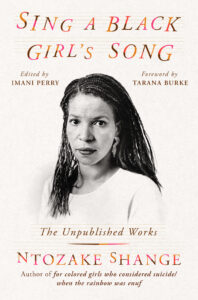 From Sing a Black Girl's Song: The Unpublished Work of Ntozake Shange, edited by Imani Perry. Forward by Tarana Burke. Copyright © 2023. Available from Legacy Lit, an imprint of Hachette Book Group, Inc.
---