Advice columnist E. Jean Carroll pushed back in a Manhattan courtroom on Thursday when an attorney for former President Donald Trump asked why she did not scream while Trump allegedly raped her.
Carroll was taking the stand for the second day in her civil trial against Trump, whom she is suing under a New York law that has allowed alleged victims of sexual abuse a one-time chance to sue despite any relevant statutes of limitations.
She says that a chance encounter with Trump at the Bergdorf Goodman department store in late 1995 or early 1996 turned from lighthearted to horrifying when he trapped her in a dressing room and raped her.
"You can't beat up on me for not screaming," Carroll told Trump lawyer Joe Tacopina, several news outlets reported.
Tacopina replied that he was not "beating up" on her.
"One of the reasons women don't come forward is because they're always asked, 'Why didn't you scream?' Some women scream; some women don't. It keeps women silent," Carroll added, according to The Washington Post.
She reportedly then raised her voice to say: "He raped me whether I screamed or not!"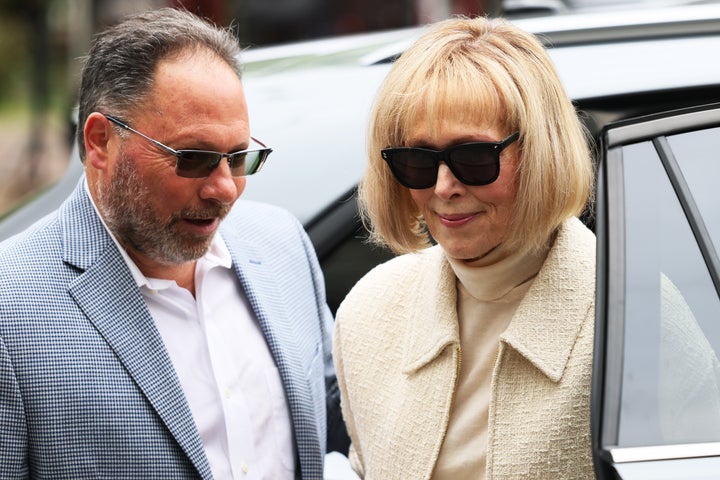 Seeing Carroll teary-eyed, Tacopina asked whether she needed "a minute," according to New York Daily News reporter Molly Crane-Newman, but Carroll said no.
The cross-examination had gotten off to a tense start when Tacopina said "good morning" twice to Carroll before she acknowledged him with a reply, according to Politico.
Over the course of the day, Tacopina's questioning reportedly sparked repeated admonishment from U.S. District Judge Lewis Kaplan, The New York Times reported, noting that Tacopina walked away in exasperation at one point. Kaplan said some of the questions were "argumentative" and "repetitive," according to the Times.
Trump denies the accusation and has spent the week posting criticisms of Carroll on his Truth Social platform.
His attorney sought to cast doubt on Carroll's story by pointing out that she did not recall the precise date of the incident or report it to the police and suggested that it was unrealistic she would not have interacted with any employees at the department store.
Tacopina also suggested that Carroll was only seeking attention. But Carroll said much of the attention directed at her has been negative, including several death threats.
At one point, Tacopina asked Carroll whether it was strange that she did not file a police report, the Times said.
"Many women do not go to the police, and I understand why," she replied.
Trump has not been present in court this week, and it remains unclear whether he will testify. Carroll is seeking unspecified compensatory and punitive damages from the former president.