September 14, 2023, 10:00am
Literary Hub is pleased to reveal the cover for Susan Rich's ninth poetry collection, Blue Atlas, which will be published by Red Hen Press in April. Here's a bit more about the book from the publisher:
Blue Atlas is a lyrical abortion narrative unlike any other.
This one-of-a-kind collection follows a Jewish woman and her ghosts as they travel from West Africa to Europe and, finally, to the High Atlas Mountains of Morocco. The speaker searches repeatedly for a new outcome, seeking answers in a myriad of mediums such as an online questionnaire, a freshman composition essay, and a curriculum vitae. The raw, often far from idyllic experience of a global love affair that results in an unplanned pregnancy is examined and meditated upon through a surreal prism. The Blue Atlas, a genus of the common cedar tree first found in the High Atlas of Morocco and known for its beauty and resilience, becomes a metaphor for the hardship and power of a fully engaged life.
And here's the cover, which was designed by Mark E. Cull, publisher of Red Hen Press: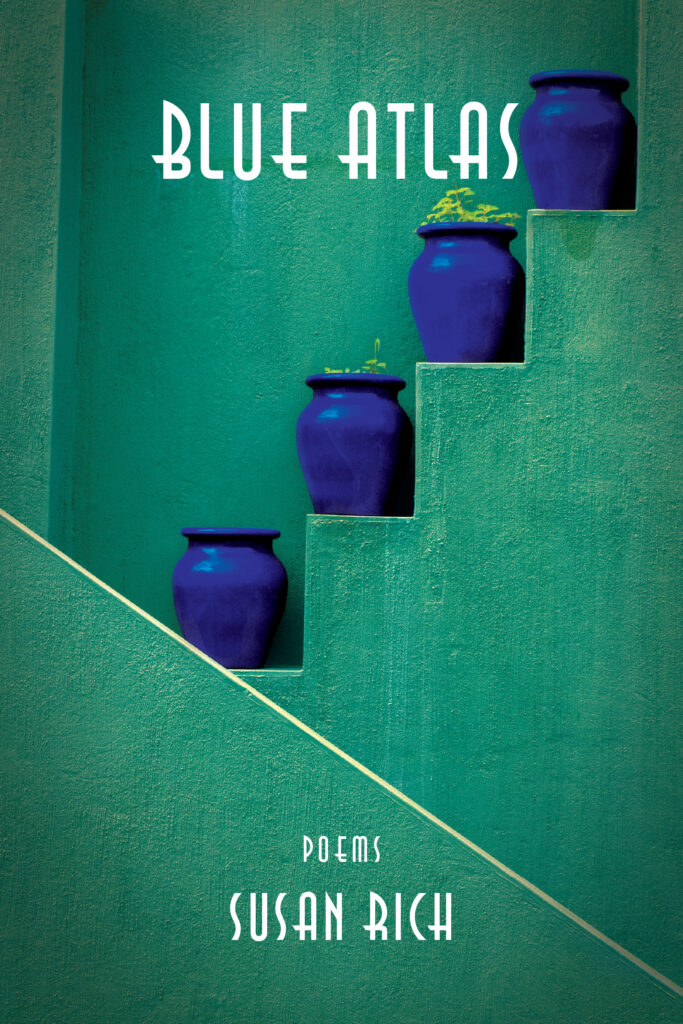 "The cover of Blue Atlas was one of those instances that was a collaboration between the author and the designer," Cull told Lit Hub. "In this case, the author, who was full of ideas, had access to a wonderful image of blue-glazed pots arranged against a tightly cropped frame of Mediterranean architecture. Half of these pots are seemingly empty while the other half hold the beginnings of something verdant that is just coming to life. The color and form of the image and the design make for a wonderful piece of eye candy that will make one stop and look and compel them to pick up the book to consider what lies inside."
"I love how this photograph in non-literal ways, encompasses my divergent worlds," Rich explained.
The attentive observer notices sea green illuminated walls and four pots glazed in an alchemical, lapis blue. Much like the poems contained in Blue Atlas which chronicle my time as a Peace Corps Volunteer in Africa, then a quick move to Paris, a hard land in New York, then finally culminating in a sensual journey to Morocco—this cover conveys a message of travel.
It may only be me, but I believe the three-dimensional nature of these tall steps set against a rough-textured backdrop, hint at a kind of epic journey with shimmering highs and disastrous lows.
My quest for cover art comes as an object lesson in joy and despair. I find depth and dimensionality in this chosen image: young garden herbs living on the edge of a borderless stairway.
When I began my search, I had no idea what I wanted. I looked at at least a thousand images until these shapely pots arrived. While it's true that I believe passionately in color and line, travel and the unknown, I didn't understand that these beliefs would lead me to my cover.
After a long internet search begun on Pinterest, I tracked down the photographer, Niranj Vaidyanathan, a software engineer based in Bangalore, India. Twelve years ago, while on a holiday in Mauritius, he snapped this photograph. Not only did Niranj immediately allow me to use his work, but he took just two days to lay his hands on the original image and send it off to Red Hen Press. It seems fitting for a lyric narrative that takes place on three continents to add a fourth by way of the photographer.
My poetry collection, Blue Atlas, narrates events that span thirty years of my life, examining in multiple found forms a midterm abortion I had at 26. The poems borrow the shape of an online questionnaire, a freshman composition essay, a personification of the abortion question and other surreal strategies.
This book has taken me more than a decade to write. During this time, the titular blue atlas has stood in for my map of sky and sea. The landscape I inhabit in Seattle, Washington, on the edge of the Puget Sound.
Sometimes I look at the cover and think, if I could climb these stairs, where would they take me? Are they a pathway to connect me to a safer world? Can they bring me out of abandonment and shame? I believe they already have done so. Every time I see this cover, I'm filled with inexplicable peace.
Recently, I've discovered that the blue atlas cedar is a tree that originated in the High Atlas Mountains of Morocco. A nomad of a tree, the blue atlas thrives in many climates, including the Pacific Northwest where I live. Like writing poems, choosing cover art is an act of the imagination, of instinct, of desire. Ultimately, it is an act of magic.
Blue Atlas will be published by Red Hen Press on April 2, 2024. You can preorder it here.