The "Full House" actor still vividly recalls wanting to quit show business when his Season 9 appearance on "Friends" went awry. Stamos said it was Perry — who was found dead Saturday at 54 — who publicly gave him the confidence to keep going.
"Matthew and I had been friendly long before 'Friends,' so when I guest starred as Zach, the prospective sperm donor for Chandler and Monica, I hung with him a lot," Stamos wrote Tuesday on Instagram to caption footage of him on "Friends."
The episode in question was aptly titled "The One with the Donor" and aired in May 2003. Stamos was cast perfectly as a colleague of Chandler Bing's, the character portrayed by Perry, but was emotionally distraught by the initial crowd reaction at the time.
"Standing backstage, ready to make my entrance, Matt whispers, 'The audience is going to go crazy when they see you! Get ready for some loud screams,'" Stamos recalled Tuesday. "I walk through the door…silence. I was so embarrassed."
Stamos said he later "slithered" backstage to "quit showbiz" — when Perry turned things around.
"Matt walks over to the studio audience: 'Ladies and gentlemen, give it up for John Stamos! You guys probably didn't recognize him at first because he's so much better looking in person!'" Stamos recalled. "I never forgot that and the world will never forget you."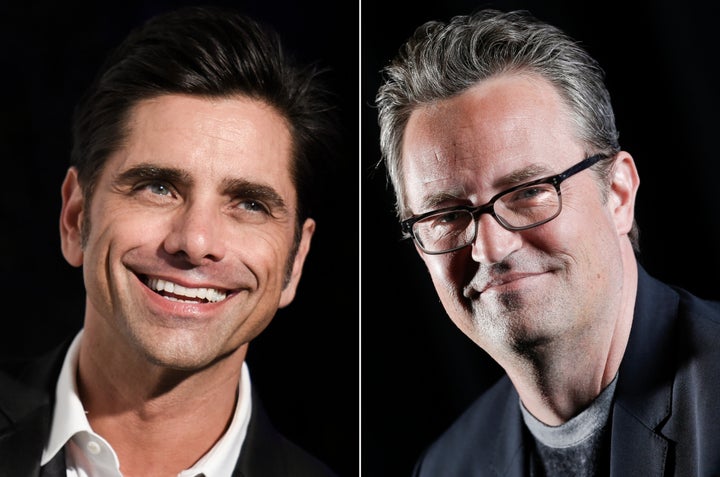 Stamos has struggled with substance abuse as well and recently released a memoir of his own. The "ER" alum was reportedly in the middle of a book signing Saturday when, according to a popular comment on Tuesday's Instagram post, he first learned of Perry's death:
"I was there when they broke the news to you of Matthew's passing Sat night. It was almost my turn to meet you in line at your Atlanta book signing. We all witnessed the shock and sadness in your reaction, yet you carried on with laughter and a smile."
The commenter added: "I cannot imagine how difficult that must have been for you."
Perry's autopsy results are currently inconclusive, as a toxicology report remains pending.