When America Ferrera launched into that monologue toward the end of the Barbie movie—telling it how it is for women everywhere—she stole the show. An iconic speech, delivered by a woman on the cusp of 40, Ferrera's character, Gloria, is one of a new breed of midlife heroines emerging in film. These are women packing some significant life experience and stepping outside the spaces assigned to them. They've had enough of the bullshit, enough of the fact that, as Gloria puts it, "It is literally impossible to be a woman."

An embattled mother of a teenage daughter, Gloria is perfectly positioned to articulate this truth, not least because she's lived it longer. It's the reason most women feel they're failing at everything, and none more so than women in midlife, who are supposed to be all things to all people, soldiering on with a smile while disproportionately shouldering the emotional burden and domestic load. Not a single one of us can match the societal expectations set out for us, but these expectations are so pernicious, so insidious, that it's all too easy to get sucked into a vortex of guilt and shame—and what better way to silence women?

There's been a gap where these voices should have been, the same gap that sparked the idea for my novel Amazing Grace Adams. A lazy cultural representation of women in the midlife space, perpetuating the notion that past the age of 40, women become "invisible and unfuckable," as director Jane Campion puts it bluntly and superbly. Ferrera's Barbie speech nails the double standards that squeeze women (and girls) into ever-shrinking margins. It couldn't be more apt that Greta Gerwig, who herself has just turned 40, put this monologue into the mouth of a midlife character.

It's glorious to watch these midlife characters—big names in big films—finally allowing their rage to blossom and explode.

It starts to feel zeitgeisty when Ferrera's speech—one of the biggest moments in cinema this year—comes hot on the heels of Michelle Yeoh's turn in the sensational and psychedelic Everything Everywhere All at Once, for which she won the Best Actress Oscar this spring. The 61-year-old is quite literally kickass, subverting all expectations of what an action hero looks like (the fact that the filmmakers originally wanted Jackie Chan to play the role is salient). Both the Barbie and Everywhere narratives pivot, in their key moments, on older women who have been around the block, who have reached their limit, and who want change. These are everywomen, but they are also, as it turns out, extraordinary.

It's glorious to watch these midlife characters—big names in big films—finally allowing their rage to blossom and explode. As they rise up, these women rip up the social contract, shuck off their sanitized scripts, and become living, breathing, furious human beings. They're mad as hell and not taking it anymore. But it's an anger born out of other, more complex emotions. "Sometimes I have so much rage it scares me," 45-year-old Grace tells a stranger in my book, a kind of fairy godmother character, who replies, "That's not rage, darling. That's your fear, your grief exploded."

Amy Schumer's hilarious and brilliant "Last Fuckable Day" sketch tells you everything you need to know about the "sell-by date" of actresses in film. "In every actress's life," Julia Louis-Dreyfus tells Schumer, alongside Tina Fey and Patricia Arquette, "the media decides when you finally reach the point when you're not believably fuckable anymore." Which is what makes Emma Thompson's recent turn in Good Luck to You, Leo Grande nothing short of a radical act. Playing a woman who's never had an orgasm, and whose quest is to achieve just that, Thompson puts midlife desire and desirability centerstage. In a culture that prizes youth and beauty above all else, a culture that makes midlife women feel like we're "failing ageing," this is a raw, visceral, honest take on the ambush of age, the politics of the body beautiful, and the shame attached. In the film's potent final scene, Thompson's character assesses her naked body in a mirror with an expression on her face that looks like acceptance.

It's a hallelujah moment! These are all hallelujah moments. Something that feels like the start of a movement. And it's happening in TV (Kate Winslet in Mare of Easttown, Sandra Oh in Killing Eve, Keri Russell in The Diplomat) and in fiction, too. Like Grace, who at the end of my book is literally building a new path, this generation of women refuses to put up and shut up just because they've reached a certain age. Watching Ferrera's monologue in the cinema last month, it was all I could do not to leap to my feet and whoop. And back at the beginning of Grace, at the start of the very first lockdown in March 2020, it was exactly this response I'd hoped for in readers. I remember sharing some initial pages with my husband, both of us laughing away at the improbable idea of a midlife woman turned North London warrior, and saying, "I think women might be punching the air reading this."

The last word has to go to Yeoh, who, as she accepted her Academy Award (right before Jamie Lee Curtis, 64, stepped up to collect hers), said this: "Ladies, don't let anyone tell you you are past your prime."

___________________________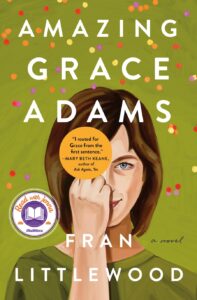 Fran Littlewood's Amazing Grace Adams is out now from Henry Holt & Company.
---