WASHINGTON ― Maxine was 4 years old when the bullet whizzed by her face. She remembers feeling a burning sensation on her forehead. And then the blood. Her uncle grabbed her, and they ran.
"I have a scar," she said, motioning to a faint line above her right eyebrow. "Just a lot of people hollering. That's all I remember."
Maxine is in her 50s now. Her entire life has been shaped by that near-miss, and it's not just because she could have died that day. It's because of the person who has been in prison ever since that chaotic 1975 shootout between FBI agents and Native American rights activists on Pine Ridge Reservation in South Dakota. And that person — Leonard Peltier, a leader in the Indigenous rights movement — has been on Maxine's mind every day since.
"Every day. Every day we pray for him," Maxine, who requested to only use her first name, said of her tribal community on Pine Ridge Reservation. About 19,000 people live here.
"He should have been released a long time ago," she said. "But they needed somebody to blame."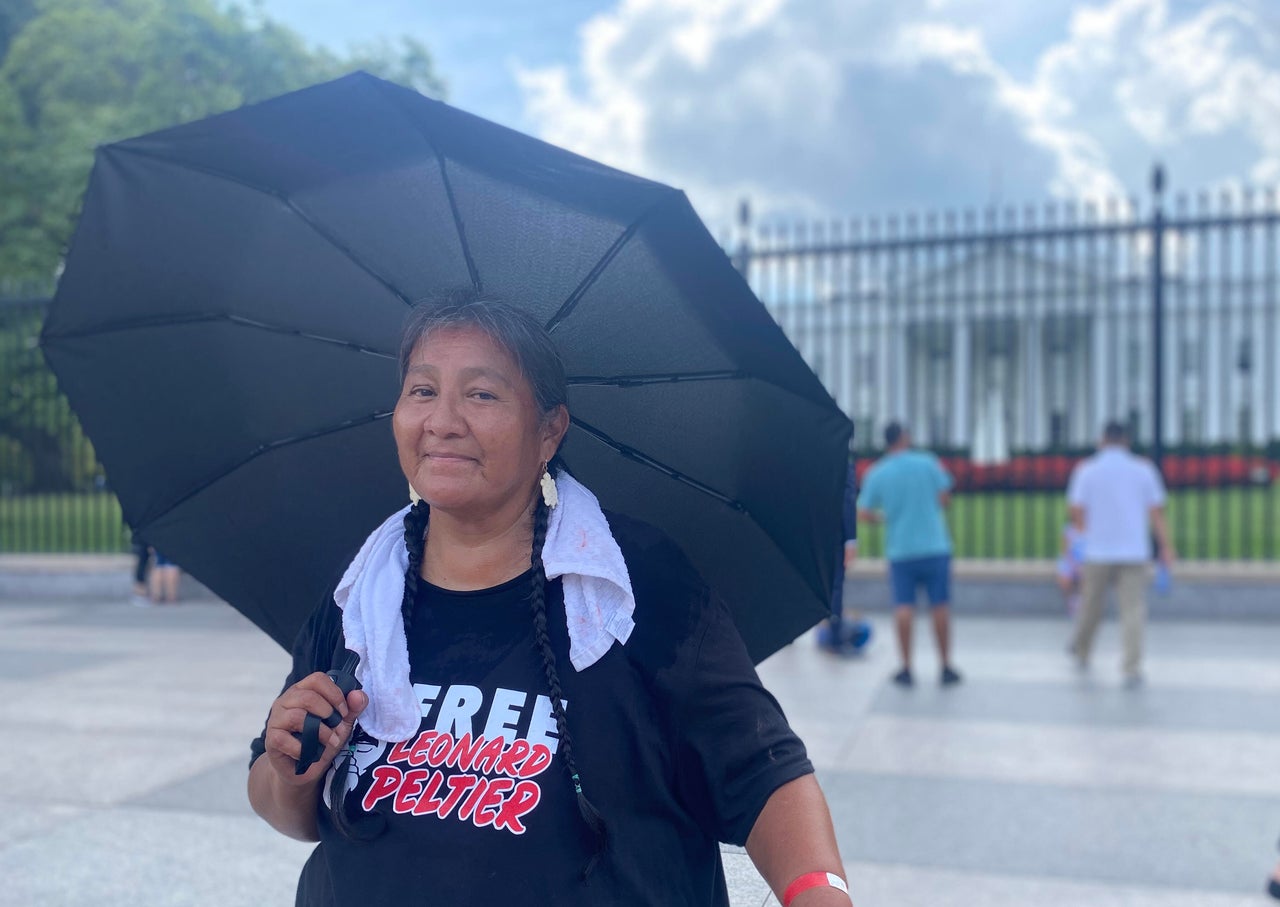 Maxine was one of hundreds of activists and Indigenous leaders at a rally outside the White House on Tuesday, urging President Joe Biden to grant clemency to Peltier. Tuesday was Peltier's 79th birthday. He's spent 48 of those years in prison, or nearly two-thirds of his life.
Today, Peltier is an ailing, 79-year-old man deteriorating in a maximum security federal prison in Florida. He uses a walker. He is blind in one eye from a partial stroke. He has serious health problems related to diabetes and an aortic aneurysm.
His life is mostly confined to a cell with 18 inches for him and 18 inches for his cellmate.
"I am still here," he wrote Tuesday in an open letter to supporters.
Peltier has maintained his innocence the entire time he's been in prison, which has almost certainly prevented him from being paroled. Last year, United Nations legal experts made the unusual decision to review Peltier's parole process and concluded that it was so problematic that Biden should release him immediately.
Biden has the authority to release Peltier at any time. Indigenous rights leaders made it clear Tuesday that they want him to do it now, before it's too late and Peltier dies. For hours, they shouted it at the White House. They held up dozens of "Free Peltier" signs and unfurled a massive banner with the same message that took at least 10 people to hold it up. They chanted, burned sage sticks and banged drums in between speeches and tribal dances.
Their voices should certainly matter to Biden, who is proud of being a strong ally to Native communities and tribes. He should be. His administration has made historic investments in Indian Country, from infrastructure to housing to climate change. He respects tribal sovereignty. He talks about the need for justice in Native communities, particularly when it comes to stopping violence against women. He's put several Indigenous people into senior positions in his administration, not the least of whom is Interior Secretary Deb Haaland, who passionately urged Peltier's release in her former role as a member of Congress.
Congress hasn't weighed in on this issue in years. I'm urging the Administration to release indigenous rights activist Leonard Peltier from prison due to COVID-19 concerns. At 75 with chronic health issues, it is urgent that we #FreeLeonardPeltier. https://t.co/XSa00RfdwJ
— Rep. Deb Haaland (@RepDebHaaland)
May 14, 2020
The president will be increasingly reminding Native communities and tribes of his record leading up to November 2024. Native voters were crucial to Biden's victory in 2020, particularly in key battleground states like Arizona and Wisconsin.
But Peltier's prolonged imprisonment hangs over all of this. For many at Tuesday's rally, and beyond, he has become a symbol of something much bigger than himself. He represents the centuries of pain and injustice that Native communities have endured at the hands of the U.S. government. The longer Peltier remains in prison, the longer the collective wound festers.
Biden hasn't said a word about Peltier since becoming president.
On the one hand, it's weird, considering that this is a president willing to address past wrongs against Indigenous peoples. His administration is very publicly reviewing the country's painful legacy of Indian boarding schools, for example, and taking concrete steps to combat the long-ignored crisis of missing and murdered Indigenous women.
On the other hand, Biden's silence puts him in line with his presidential predecessors. The FBI has made it clear, for decades, that it never wants Peltier released. And Biden, so far, appears to be letting the FBI dictate how this goes.
"Biden doesn't want to piss off the FBI because they want somebody locked up, even if it's not the right person. That's a political prisoner."
- Peggy Mainor, executive director of MICA Group, a Native-led organization in Baltimore
But pleas to Biden for mercy for Peltier aren't going away, and are likely only going to get louder as election season picks up. The Democratic National Committee last year unanimously passed a resolution calling on Biden to grant clemency to Peltier. Seven Democratic senators did too, along with a separate group of House Democrats.
"Mr. Peltier meets appropriate criteria for commutation: (1) his old age and critical illness, (2) the amount of time he has already served, and (3) the unavailability of other remedies," Sen. Brian Schatz (D-Hawaii), chairman of the Senate Indian Affairs Committee, wrote in his own letter to Biden last year. "Mr. Peltier should be granted a commutation of his sentence."
During Tuesday's rally, 35 people got arrested, including Fawn Sharp, the president of the National Congress of American Indians, the largest and most powerful Indigenous rights group in the country. Sharp told HuffPost last month that Peltier's freedom is a top priority for her organization and its membership heading into 2024.
Paul O'Brien, the executive director of Amnesty International USA, also got arrested Tuesday. The massive international human rights organization recently launched a new campaign aimed squarely at urging Biden to release Peltier.
Maxine got arrested, too.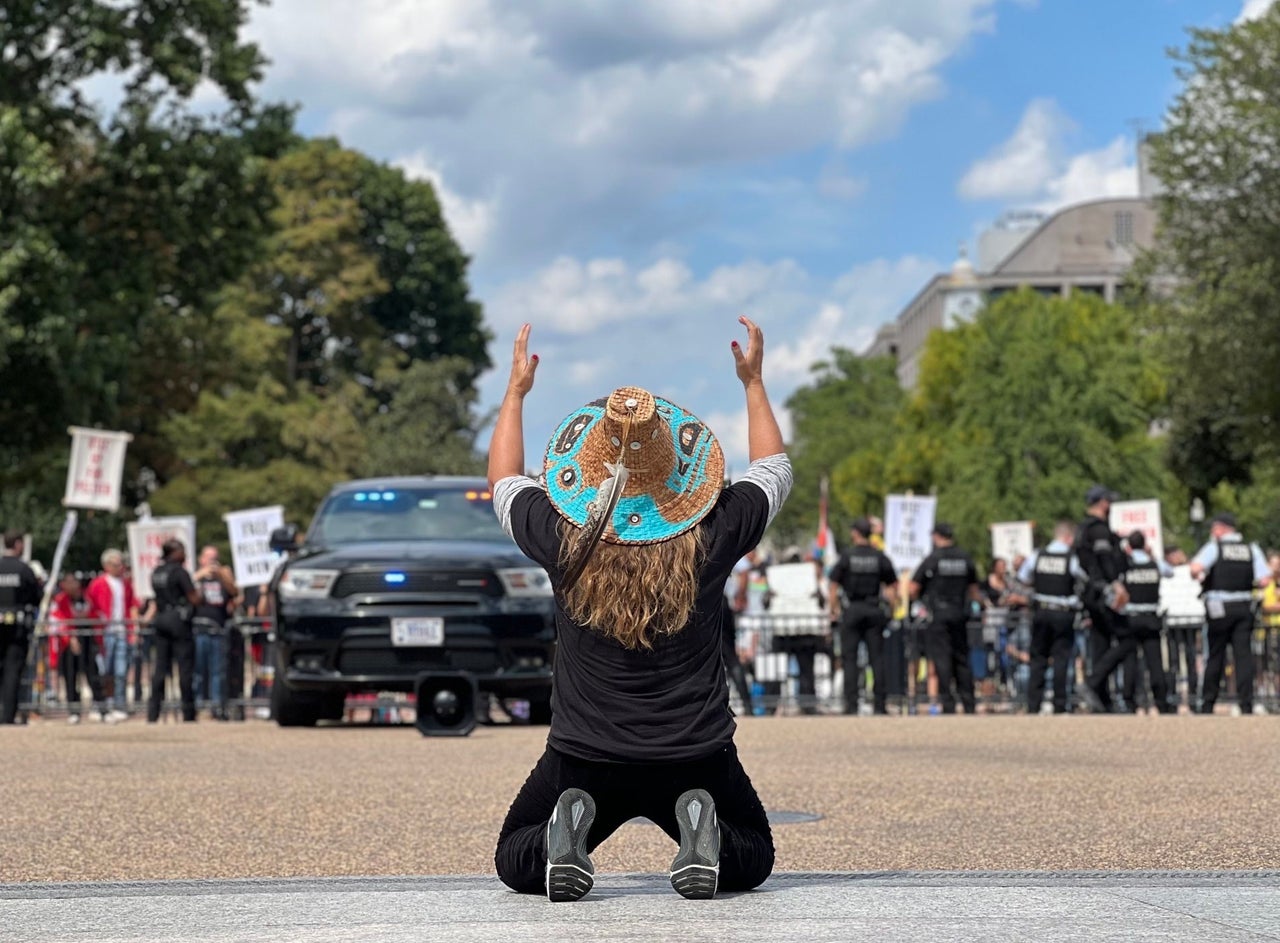 These were planned arrests to make a statement, and everyone was released soon afterward. The protest, organized by NDN Collective and Amnesty International USA, was peaceful the entire time. Perhaps most remarkable about the gathering was its diversity: People of all races and ages, from teenagers to people in their 70s, felt a connection to Peltier's story. Many could talk in detail about his imprisonment.
Peggy Mainor, who is in her 60s, said she organized a march for Peltier in 1978 in Berkeley, California. She said she was deeply disappointed that President Barack Obama didn't release Peltier, and isn't surprised that Biden hasn't done so.
"He probably feels like he doesn't have to do anything because he does have a strong record" with tribes and Native communities, said Mainor, who is the executive director of MICA Group, a Native-led organization in Baltimore that works with Indigenous communities to protect their lands and cultures.
"Biden doesn't want to piss off the FBI because they want somebody locked up, even if it's not the right person," she added. "That's a political prisoner."
Tyler Star Comes Out, a 20-year-old Indigenous woman from Pine Ridge Reservation, said she feels tied to Peltier because he was arrested on her grandparents' land.
"For my entire life, I've heard stories of Leonard Peltier and AIM," she said, referring to the American Indian Movement. "I've been hearing my grandparents advocate for him, and so, considering that I'm the younger generation, I'm continuing on their work."
Star Comes Out, whose father is the president of the Oglala Sioux Tribe, will be old enough to vote in her first presidential election in 2024. She said she'll "most likely" be voting for Biden, but if he doesn't release Peltier before then, "I wouldn't be happy about it."
Asked if she had a message for Biden on Peltier, she replied, "Respect our elders."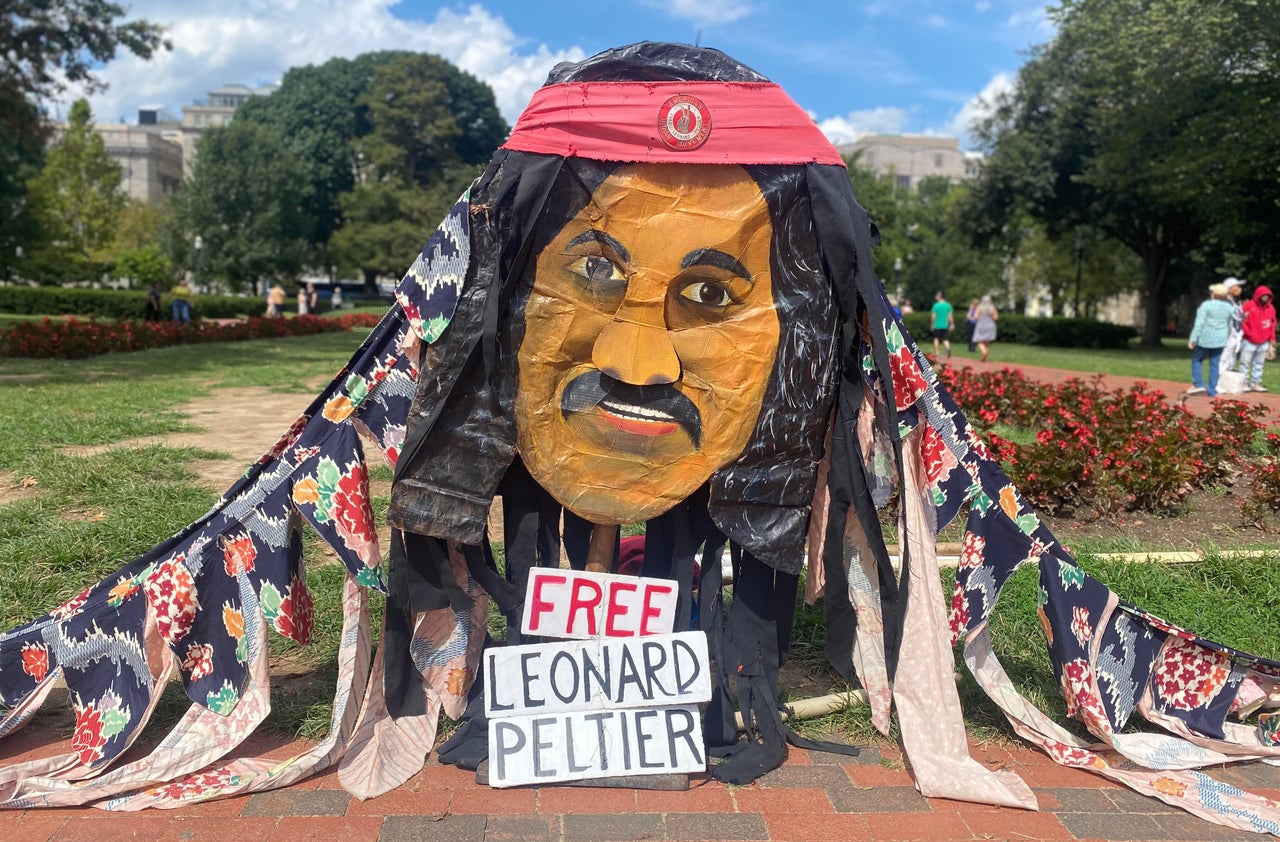 At least two of Peltier's children were at the protest, Kathy and Chauncey Peltier. So was Norman Patrick Brown, who was with Peltier during that 1975 shootout. He was only 15 at the time, the youngest AIM member there that day.
Brown said it was "really emotional" being at the gathering for Peltier, whose freedom he's been advocating for his entire life.
"I feel like people will never understand the stand he took," said Brown, tearing up. "They don't realize how much love there was by the Lakota people, the Navajo people. The elders thought of him as their son. ... He stood up against the federal government. The man was fearless, his heart was pure, his love for his people."
Standing a few feet away, Chauncey Peltier said he knew what he would say to Biden if he had five minutes alone with him.
"I would ask him to please release my father from prison and let him go home. That would help the healing of my people [that they] have been going through for 500 years," he said. "That would be a start."
"He's completely failing us on this issue of justice for Leonard Peltier."
- Dallas Goldtooth, an Indigenous rights activist and actor on the television series "Reservation Dogs."
The White House did not respond to a request for comment about Tuesday's protest or about whether Biden is considering clemency for Peltier.
HuffPost has asked the White House about Peltier several times over the last two years. The last time it provided a comment was in February 2022, with this statement from a Biden spokesperson:
"We are aware of Mr. Peltier's request for a pardon and the outreach in support of his request. As many of you know, President Biden has a process for considering all requests for pardon or commutation, which is run through our White House Counsel's Office. I don't have more to share on Mr. Peltier's request at this time."
Peltier's attorney filed a clemency petition in July 2021, which begins the process for the Office of the Pardon Attorney to review his case for being released from prison.
Asked what movement there's been, if any, on Peltier's clemency petition in the last two years, Justice Department spokesperson Dena Iverson pointed HuffPost to a searchable database on its website for those details on Wednesday.
Its status here remains the same as it has been for two years: "Pending."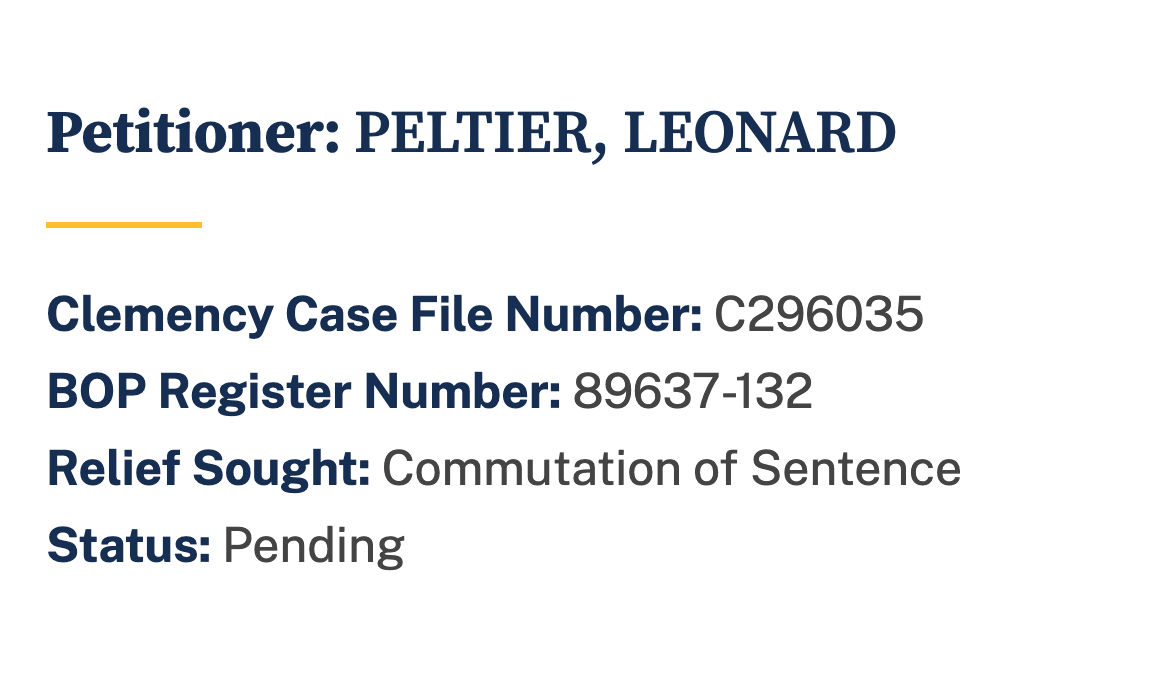 The FBI, which appears to be the only real obstacle to Peltier's release, provided a statement Wednesday on why it still wants him in prison:
The FBI remains resolute against the commutation of Leonard Peltier's sentence for murdering FBI Special Agents Jack Coler and Ronald Williams at South Dakota's Pine Ridge Indian Reservation in 1975. We must never forget or put aside that Peltier intentionally and mercilessly murdered these two young men and has never expressed remorse for his ruthless actions.
Peltier's conviction, rightly and fairly obtained, still stands, and has withstood numerous appeals to multiple courts, including the U.S. Supreme Court. No amount of prison time changes the facts surrounding Coler and Williams' deaths and commuting Peltier's sentence now would only serve to diminish the brutality of his crime and the suffering of their surviving families and the FBI family."
There was never evidence that Peltier murdered anyone, and the prosecutors themselves later admitted they didn't know who did it. Peltier was never convicted of murder; he was convicted of "aiding and abetting" by virtue of being present that day.
The statement also doesn't address the FBI's and U.S. Attorney's Office's now-known egregious misconduct in Peltier's case. The 10th U.S. Circuit Court of Appeals concluded in 2003 that the U.S. government's behavior in Peltier's case "is to be condemned. The government withheld evidence. It intimidated witnesses. These facts are not disputed."
Furthermore, the FBI statement doesn't address the agency's own role in instigating the shoot-out that day, which has been called out over the years by the 10th Circuit, the late Judge Gerald Heaney on the 8th U.S. Circuit Court of Appeals, and former U.S. Attorney James Reynolds.
An FBI spokesperson followed up to say the bureau has no further comment.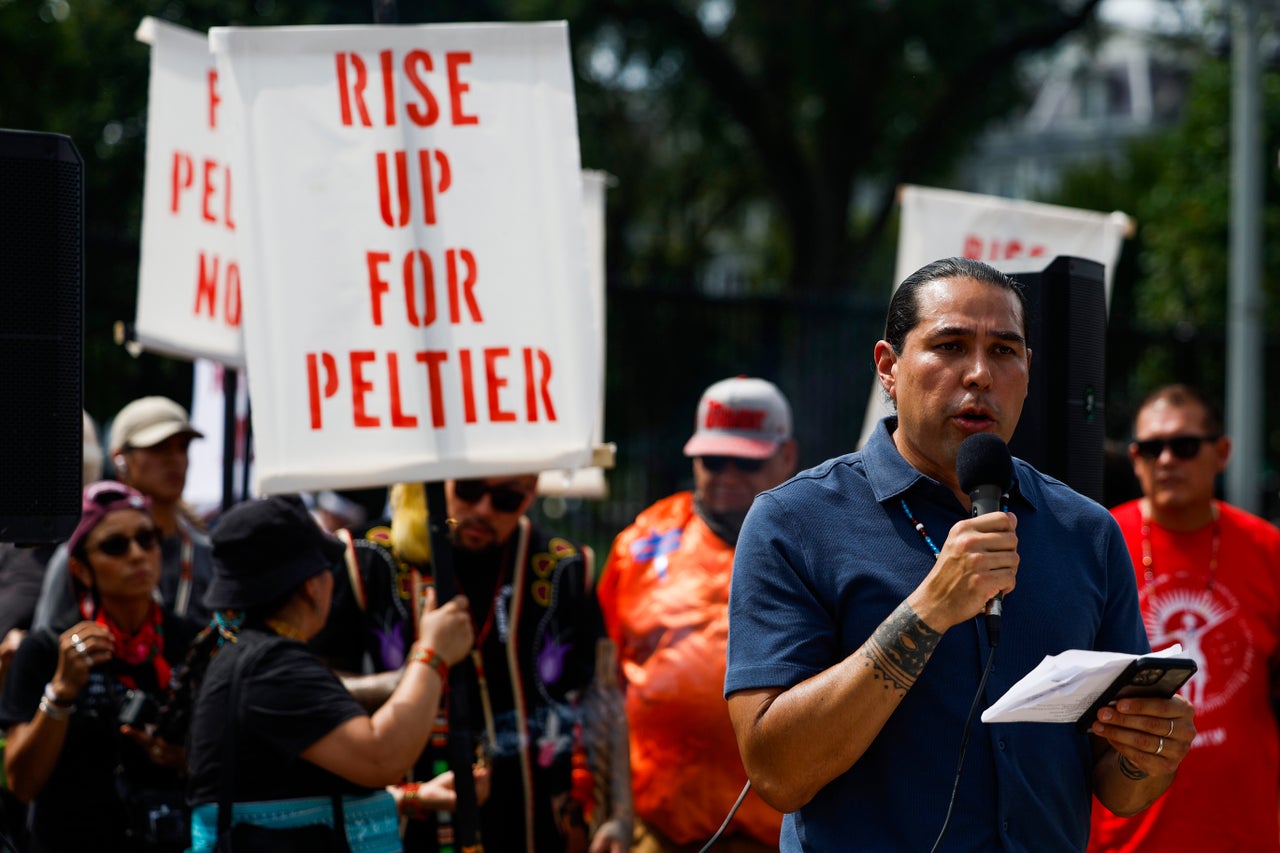 Some attendees at Tuesday's rally predicted that Biden's inaction on Peltier will depress voter turnout in Native communities in November 2024.
"Absolutely," said Dallas Goldtooth, 40, an Indigenous rights activist and an actor on the TV series "Reservation Dogs."
"He's completely failing us on this issue of justice for Leonard Peltier," Goldtooth said. "All of us grew up with Peltier on our minds, our hearts, in our mouths. The fact that he's still locked up is something that we organize around. Because we want to see him free, but also we want to see our issues acknowledged by this administration."
Maxine said people in her community regularly talk about how disappointed they are that Biden hasn't released Peltier.
"No one is going to turn out," she speculated. "They just say that they made the wrong choice again. Somebody should have done something."
But others saw Biden in a different light.
Suzan Harjo, a longtime Indigenous rights advocate and 2014 Presidential Medal of Freedom recipient, sat in a wheelchair amid the action. Baking in the sun on the cement, the 78-year-old poet and policy advocate said it was important to her to be there because Peltier has come to embody so much, for so many Indigenous people, for so long.
"Leonard has always been a stand-in for us, for all Native peoples," said Harjo, who had addressed the crowd earlier.
"This isn't some abstract guy," she continued. "He was jailed as a symbol for us, for the freedom-loving Native people and the freedom-fighting Native people. He's been in prison as long as he has been a symbol for us."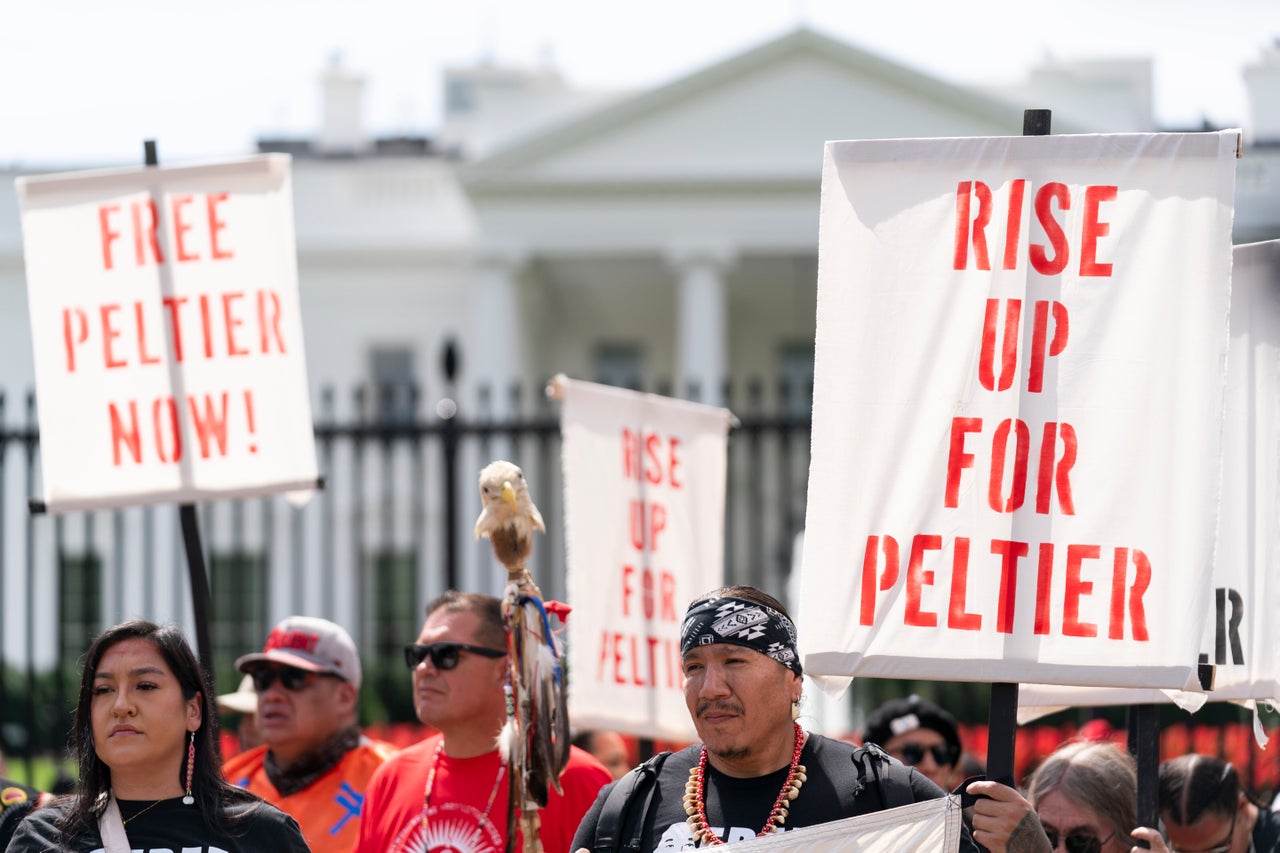 Harjo said what many people don't understand is that all Indigenous people carry "generations of hurt and pain" caused by the U.S. government's actions.
"We don't want to see the old days come again. We want this to be a new day, and President Biden is just the kind of person that can make that happen," she said. "I don't call him out; I call on him to do it. I believe in him."
Harjo brings the perspective of someone who worked with Biden on and off for decades during his time in the Senate. Last month, she wrote to him to personally appeal to him to release Peltier. She praised him for being a longtime supporter of restoring Native peoples' rights, from his work on the Indian Child Welfare Act to the American Indian Religious Freedom Act to the Violence Against Women Act.
"I think he will do it," she said of Biden ultimately releasing Peltier. "I think that he's a compassionate man and he'll understand that this is our family we're talking about."