Gun rights advocates have filed lawsuits against Washington state's newly signed law that immediately banned the sale of AR-15s and dozens of other semiautomatic rifles.
The National Rifle Association's lobbying arm filed a suit against Washington Attorney General Robert Ferguson and Washington State Patrol Chief John Batiste on Tuesday, the same day that Gov. Jay Inslee (D) signed HB 1240 into law. A second, separate lawsuit was similarly filed against Ferguson, Batiste and four Washington counties' sheriffs and prosecutors on behalf of six other opponents.
The NRA's lawsuit, filed on behalf of local plaintiffs and a Connecticut-based firearms trade association, argues that the Second Amendment protects the use and possession of "common use" weapons, including AR-15 rifles, for self-defense.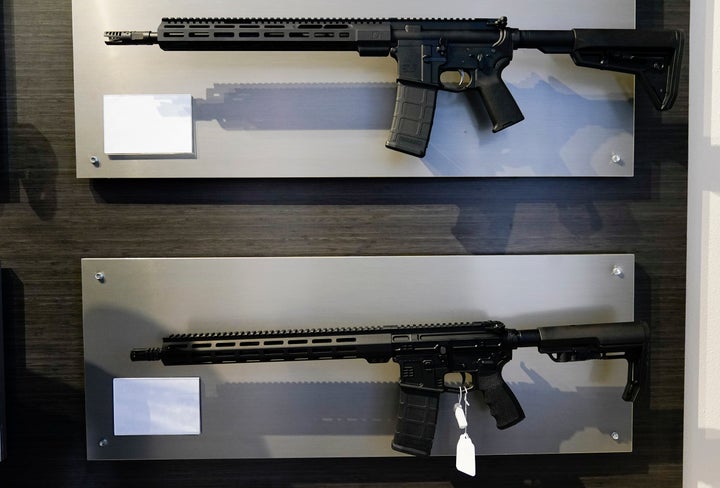 "Indeed, Americans buy more of the most popular type of semiautomatic rifle (the AR-15) each year than the most popular type of automobile and there are more AR-15-style rifles in private hands in America today than subscribers to all daily newspapers nationwide combined," the lawsuit states.
The Second Amendment, word-for-word, does not specify that "common use" weapons are protected, though the Supreme Court last year in NYSRPA v. Bruen ruled against a ban of weapons that are "in common use today" for self-defense.
"It's outrageous that states continue to pass these unconstitutional bans. But rest assured, the NRA will continue to fight each one," Aoibheann Cline, the Washington state director of the NRA's Institute for Legislative Action lobbying arm, said in a statement.
Chris Loftus, director of communications for the Washington State Patrol, said in a statement to HuffPost that the agency's job "is to always dutifully enforce the laws of the state as they are written."
"In short, we will let the courts do their job and continue to do our own without comment until notified of any legal outcomes that change our direction or responsibilities," Loftus said.
Ferguson and Inslee's press secretary both dismissed the validity of the lawsuits in separate statements.
"The state is acting totally within its authority to protect its residents from gun violence. We are confident these challenges will not be successful," said Inslee's press secretary, Mike Faulk, in a statement to HuffPost.
"My office is undefeated in court against the gun lobby. We plan to keep that record intact," Ferguson said in a statement posted to Twitter.
HB 1240, when signed by Inslee, immediately prohibited sales of semiautomatic rifles throughout the state.
"These weapons of war, assault weapons, have no reason other than mass murder," the governor said while signing the bill, according to The Seattle Times.
Inslee also signed into law a 10-day waiting period for firearm purchases and a bill that would hold gunmakers liable for negligent sales.
Both lawsuits seek a preliminary injunction that bars enforcement of the gun ban.