Orlando Bloom couldn't help but gush over his fiancée, Katy Perry, as the "Firework" singer gears up for the performance of a lifetime next month ― a gig that comes with some snazzy accommodations.
The "American Idol" judge was recently announced as one of the select few invited to perform at King Charles and Queen Camilla's Coronation Concert on the grounds of Windsor Castle on May 7.
"My girl's going to be singing, that's fun. I'm not going to make it there, sadly, but she's representing, which is cool," Bloom told Entertainment Tonight in an article published Thursday.
"She does those big, historical things ― it's wonderful," he added. "She sang for the president too."
"Who's left?" the actor joked. "Maybe the pope."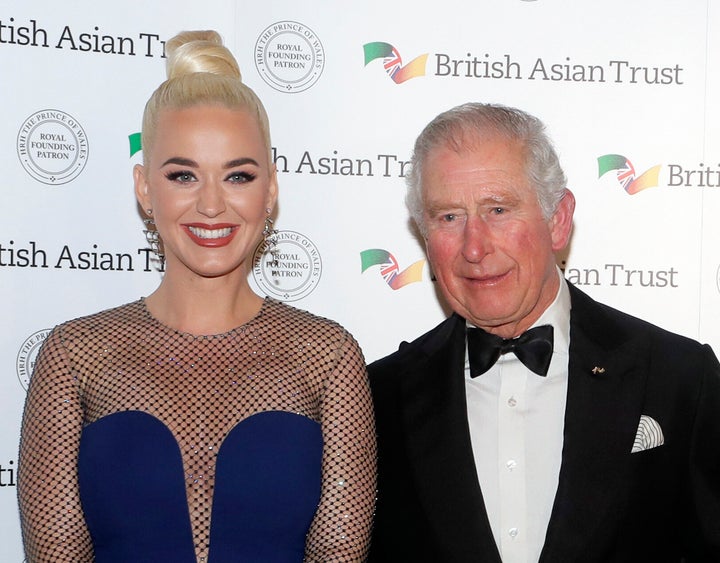 Perry told Extra! earlier this week that she is "grateful" to be performing during the historic weekend ― and explained her connection to Charles.
"I'm an ambassador to one of his foundations for the British Asian Trust, which primarily focuses on ending child trafficking, which is a huge issue of our time that people don't talk enough about," the singer said. "He asked me to sing and it all aligned."
Part of the deal means that Perry is allowed to stay over at Windsor Castle, and she said she's "really excited" about the ultra-exclusive accommodations.
"I might be posting [on social media] a lot because I'm gonna be in a castle, for real," she said. "This is wild."
Perry will have to report back on the food at Windsor Castle, as Michelle Obama has previously shared her experiences of sleeping over at another royal accommodation ― Buckingham Palace ― while her husband was president.
Obama was asked at an event in 2018 if the White House or Buckingham Palace had better food, and she didn't hold back.
"I don't want to insult anybody, but American food is just better," the former first lady admitted, though she conceded the palace did have good french fries and much better china.
"When we were served at the state dinner — you know how we have chargers and they're gold, so you sit down, and everything is gold," Obama explained. "The plate that I thought was the charger, that was the plate. They put food on the gold charger because that was their plate. I said, 'You win. You win on the plates. You got us beat.' Their rose garden? Much bigger."