A nearly two-week manhunt for convicted killer Danelo Cavalcante has ended with his capture, Pennsylvania state police announced Wednesday morning.
The 34-year-old was taken into custody around 8 a.m. after being traced to a wooded area roughly 30 miles north of the Chester County Prison he escaped from, according to state police. They said he was found with the help of an aircraft that used heat-detecting technology.
"They had the element of surprise. Cavalcante did not realize he was surrounded," state police Lt. Col. George Bivens said of the tactical units that located him in Pottsville.
Cavalcante was carrying a rifle that was reported stolen by a local resident on Monday and attempted to flee, but a police dog was able to subdue him, Bivens said.
"He continued to resist but was forcibly taken into custody," Bivens said, adding that Cavalcante sustained a "minor bite wound" from the dog. No officers were said to have been injured.
Video posted on social media shows Cavalcante with a bloody face and wearing a gray Philadelphia Eagles hoodie after being taken into police custody. Police officers and dogs who participated in the manhunt were seen posing for photos around him.
"Those men and women worked amazingly hard," Bivens said when asked about some public backlash to the photo-op. "They're proud of their work. I'm not bothered at all that they took a photo of him in custody."
Bivens added that it's not clear where Cavalcante obtained the hoodie, though authorities had previously said that clothing he was seen wearing during his time on the lam had been reported stolen by local residents.
After further processing and an interview, Cavalcante will go to a state correctional facility to serve his life sentence, Bivens said.
Cavalcante had been on the run in southeast Pennsylvania since Aug. 31, when he was filmed climbing out of the Chester County Prison's exercise yard and onto the roof. It wasn't until an hour later that the prison realized he was missing, authorities said.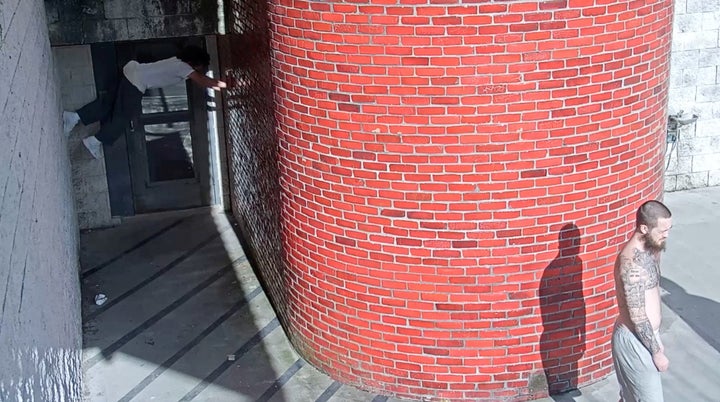 During his time on the run, authorities said he was able to change his appearance with a fresh shave and new clothing. He also allegedly stole a van, which was later found abandoned, and a rifle from a local home's garage.
Cavalcante's desperate run followed his sentencing to life in prison in August after he was convicted of fatally stabbing an ex-girlfriend in front of her children in 2021. He is also wanted for a 2017 murder in his home country of Brazil.
This is a developing story. Check back for updates.