The "Only Murders in the Building" star displayed zero poker face while the nominations for the Best R&B category were announced at the ceremony Tuesday night. In one MTV livestream, Gomez can be seen exhibiting utter elation when SZA wins the award for her single "Shirt" — and then expressing oodles of disappointment when Gomez realizes that SZA isn't at the ceremony to receive her award in person. Yet, it was Gomez's reaction to hearing singer Chris Brown's name among the Best R&B nominees that got people's attention.
In a clip circulating widely on X, formerly Twitter, Gomez can be seen scrunching her nose and pouting her lips in an apparent stink face as Brown's name is announced.
HuffPost reached out to Gomez for comment on her peculiar facial expression, but did not receive an immediate response.
Gomez — who won the Best Afrobeats award for her collab with Rema on the summer hit "Calm Down" — did however post a cryptic message to Instagram after the ceremony wrapped, and it could be considered a response to her now-viral sneer.
"I will never be a meme again," Gomez wrote. "I'd rather sit still than be dragged for being myself. Much love."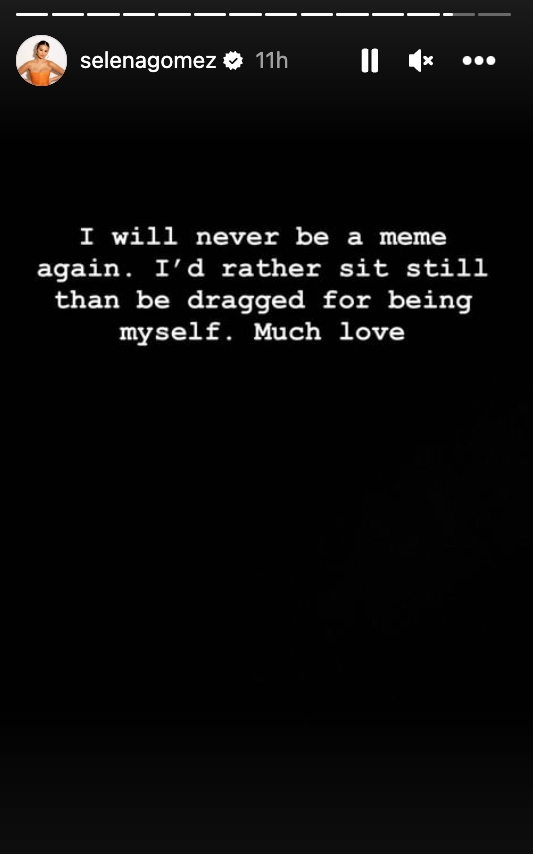 Considering the laundry list of concerning accusations Brown has faced over the years, it's easy to see why many social media users believe Gomez was sneering at his name.
Brown has a well-documented history of assault. He infamously pleaded guilty to a felony charge in 2009 following a violent incident involving then-girlfriend Rihanna.
But Brown's troubling past certainly does not end there.
In 2017, ex-girlfriend Karrueche Tran was granted a restraining order against him after the "Claws" star accused Brown of making violent threats.
Musician Frank Ocean told police in 2013 that Brown called him a homophobic slur in a dispute over a parking space. He also alleged that Brown punched him, though he declined to press charges.
But whether Gomez purposely made a face upon hearing Brown's name — or just happened to twitch — is unknown.
It's especially unclear since Gomez had told Capital FM in 2015 that she's a "huge fan" of Brown, despite the negative news coverage of him that began years earlier.