The "Calm Down" singer was all smiles at the ceremony after winning in the Best Afrobeats category alongside Nigerian artist Rema — and being cheered on by longtime bestie Taylor Swift — but left the Prudential Center in New Jersey to find herself the unwitting face of several viral social media moments.
"I will never be a meme again," wrote Gomez over a black background in an Instagram story early Wednesday morning after the MTV ceremony concluded. "I'd rather sit still than be dragged for being myself. Much love."
Gomez didn't elaborate on the matter, but presumably alluded to widespread images of her reactions at the ceremony proliferating online. Footage of the singer covering her ears during Olivia Rodrigo's performance, for instance, racked up nearly 100,000 likes.
While Gomez initially poked fun at herself that night and posted an Instagram story of her and Swift embracing with a caption that read, "She looks stunning I look constipated," she was clearly frustrated her reactions were being used online to fan potential feuds.
Swift meanwhile, who tied the record for most VMAs in one night with nine trophies, was universally lauded for her reactions. Footage of the "Anti-Hero" singer joyously dancing as Gomez won her award was widely shared on X, the platform formerly known as Twitter.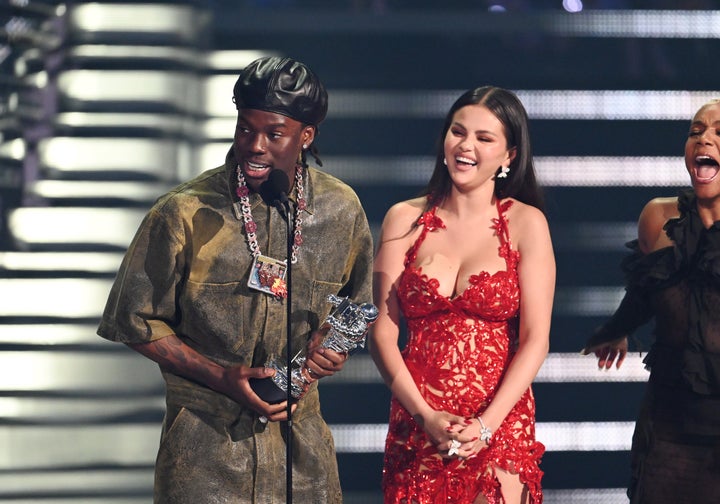 The singer was all smiles while accepting a VMA, however, and stunned in a lacy red Oscar de la Renta dress while celebrating her and Rema's win for "Calm Down" — the first African artist-led track to hit 1 billion Spotify streams — and thanked her fans in a genuine speech.
"And thank you for choosing me to be a part of such an incredible song that's been able to break records," she continued. "Thank you to all of you for listening, for streaming. I could not be more honored. And I wanna send all my love to Nigeria."