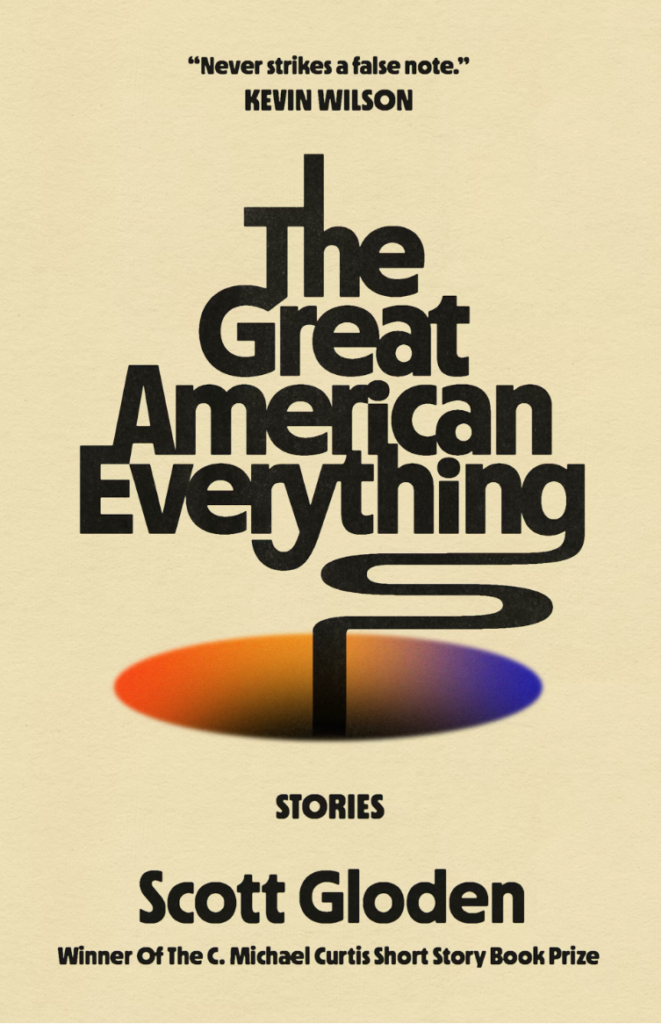 The following is from Scott Gloden's collection The Great American Everything. Gloden lives in Philadelphia, on unceded Lenape land. His stories have appeared in American Short Fiction, Glimmer Train, and StoryQuarterly. He has a Master's in Public Policy from Carnegie Mellon and works on homeless and housing initiatives.
People have told me alligators turn up in the bayou now and again. Little ones. Though, little ones that could still grow. Other people have said this has never happened, but there are parrots across the city that have spawned for two decades, ever since an international bird expo was held downtown and the birds did what birds do: flew away. Other people have told me that's not why the birds are in New Orleans, that colonialism does not stop.
*
The gallery was technically on Julia but too far off from the other galleries to monetize foot traffic. Weeks before reupping the lease, a Rouse's was set to go in around the corner, and a set of offices with a low census was slated for redevelopment into food halls and yet another boutique hotel. All of which would make the location shinier, ripe. But the parking lot to Rouse's was built out of sight of the gallery and the owner of the office building entered a divorce that forestalled the venture.
Mostly the gallery stayed profitable through private buyers. Still, the artist-owner, Michele, wanted it open on track with the others three blocks down: eleven to six, Thursday through Sunday, occasionally later for events, playoff weekends.
This arrangement provided me a corner storefront in which to do whatever I pleased, provided I washed the windows regularly and showed some blanket charm to the few passers-through, all under the minimal supervision of Michele's proxy, Kirstin, who more often than not sent me on errands in her Range Rover to Home Depot or for sushi.
On Thursday, when Kirstin called to say she was going to Houston to visit her brother at MD Anderson, I was intent on watching movies and finishing applications to grad school when Patty walked in, her expression too fucking loony to just let me be.
*
That morning, I'd been long-winded about the gallery with Jen. She was on her way to UNO, already late, and I hadn't realized I was mounting a rant until it was coming out, my main complaint being that Kirstin's departure put me on duty for White Linen Night.
"Keys?" she asked.
"Kitchen," I said, and continued on. "I'm just saying, if the die-in comes together, I'm going to be stuck inside."
"Why?" she called from the other end of the railroad.
"Cause Kirstin won't be there."
"Just close the doors for a half-hour, say you thought there was a riot, that's how they'll report it anyhow. I have to go," she said, but her body was still paused in the middle of the house.
"I don't know if I can do that," I said.
"Then, I don't know, don't go to the die-in. Where are my sunglasses?"
"That's the whole problem. I need this job, but it's going to look like I'm choosing to be part of the gallery class. It's not like I'm missing the action just for work. No one ever has a problem with that."
"I mean, you already have a job you likely took from someone else. So, quit, I guess," she said and found a different pair of sunglasses than the ones she normally wears in an old bag.
"My job covers rent right now."
"Then we don't make rent," she said, walking out the door.
*
The gallery's desk space is tucked in the back. It's visible walking in but engagement with the art was Michele's priority. Whenever someone walks in, she explained, I should rise up and move to the other side of the desk, but pretend I'm leashed to it. Show invitation, servility, but never crowd.
When Patty walks in, however, she makes a beeline past the art, her tongue undressed from her mouth in a slew of words I don't fully grab as I close out Netflix on the screen and straighten my jeans.
"I've been sent here by the gods of Harrah's to find something expensive," she says and takes a seat opposite me.
"This is nice," she says, touching the desk, a massive heap of metal collage with a glass surface that is impossible to clean beneath.
"Michele made it," I say.
"She welds?" she asks, and I motion to a lineup of small figure sculptures behind her, all mounted to heavy plinths, their bodies molten and overworked.
"They're beautiful," she says, standing closer. "But I want a painting. Something that eats up a wall. Like that one," she says, pointing behind the desk, where an 8×10 is hung by only two nails so that I must adjust it each time the air conditioning kicks off.
"It's my favorite," I say, which sounds like a queasy thing to say aloud but is, in fact, the truth. It's a piece of canvas Michele dyed and then glazed, the only disruption a sunspot of cadmium yellow center-right.
"It's fifteen-thousand," I say.
"That's a lot," she says, but not in a dismissive manner.
"I might be able to get it down, but it's not my call, I'm afraid."
"Hmm," she says and steps back to take a picture, before texting.
"Are you from New Orleans, born here I mean?" she asks, as she stands tapping at her phone.
"No, Michigan," I say.
"Oh!" she says and clutches her phone between her knees, looking at her palms before deciding the correct one to turn toward me. Using her opposite hand, she pretends to drive her finger around the state. "Where at?"
"Lansing," I say, and she stops her finger like she's arrived at the house I grew up in.
"What about you, Louisiana?"
She shakes her head. "Colorado, Tennessee, Utah. Mostly Tennessee now," and her phone dings.
"Verdict's in," she says. "You find out what you can get me off that one, and we can make a deal tomorrow."
*
White Linen Night is a summer block party spread across Julia, its patrons all dressed like they've disembarked the same yacht, a kind of anti-second line for the St. Charles populace. It contains loud music but no rhythm, art on demand but no message.
Two weeks earlier, a young Black girl died in a medical transport out of Gentilly when the ambulance popped a tire during rush hour and was forced to wait seventeen minutes for another vehicle. At the same hour, a white football player was taken by helicopter from Jesuit to Ochsner to treat what turned out to be non-life-threatening dehydration.
The media all covered the story with the same consideration: the girl experienced unpopular side effects to a shot of epinephrine that could not be prevented, though many medical professionals disagreed.
In response, a group of organizers were quietly plotting a die-in to take place on the same Saturday as White Linen Night. They successfully arranged to have the hired DJs stop playing at dusk, while others lay on the ground in silence for seventeen minutes as papier-mâché helicopters attached to helium balloons floated overhead. White allies were to be a kind of guardrail between those presenting the action and anyone looking to disrupt the scene.
Last weekend, Jen and I stood in a warehouse rehearsing in the Marigny, watching the first prototyped medevac lift slowly above us and drive thirty feet up to the ceiling, where the balloons popped on the rusted beams and fell back down to our feet.
"Let me get this straight," Jen says, and she places an onion in front of me to cut, opening a beer. "You get ten percent on anything that's sold while you're in the gallery, even if you don't actually do anything to sell it?"
"Pretty much."
"So, fifteen-hundred dollars just for sitting there."
"Well, not quite. Kirstin said I could negotiate as low as twelve. She said Michele doesn't even like the painting."
"Have you always had a commission rate?"
I shrug yes.
"Ok. So, what's the problem you're having?"
"I think I'm going to make the sale and then quit. It'll cover two months here and grad school apps. It's enough time to find something else, and then I don't have to worry about missing the die-in."
Jen takes a full sip.
"I want to be supportive, but it's weird to find out your job can actually be lucrative, and that you want to quit in the same sentence."
"You get commissions for selling cars, too," I say.
"I guess you do," she says, smiling. "Two months of okra and onions it is," and she dumps my cutting board into a pan.
I do not give a shit about the art on Julia. Not the commercial banquets of color and silhouettes Michele pushes; not the high-concept John Waters' installations down the way; not the kitschy paintings of moonlit sugar cane fields, which eliminate the brutality of harvest. All of these spaces are priced and parceled to serve Uptowners and their houses that look like wedding cakes, their mannered lingua franca of racism, their collective net worth enough to reshoe the coast.
In moving to New Orleans, questions of why spread out from people's lips. Asks on whether or not the oil had been fully cleaned, of how many years before it's underwater, of how to live in a place so segregated. The last always the most frustrating addendum, as if to imply the segregation of any one city was not the segregation of another; as if to suggest separation was something to navigate forever, that humans are an immiscible buildup of atom and emotion.
In college, some of my friends traveling abroad were instructed to iron on Canadian flags, red maple leaf patches to their bags, to mark them as something not American. A safer repute to walk around under. I could never bring together how this worked, if it made it impossible for Americans to be seen as anything less than their worst parts or if it slowly corroded the world's impression of Canada.
When I moved to town, I found a place at the center of Uptown, just off from Audubon Park, an apartment buried in mansions. It was a decision to be a white person who moves to the white part of town, to go where others were quietly prolonging moneyed histories, to camp beside them and smolder, to iron an American flag into the lawn so they could watch me walk overtop it.
Working on Julia was the first of many ways I let all those intentions become blood-let, until passing opinions from neighbors were met with passive looks, until weekends were spent window-shopping houses, imagining gutted double-shotguns with kids growing out of them, lazy stroller walks to the zoo, steering toward a day that flag might become something dusted off and raised enough to catch the wind, because colonialism does not stop.
*
I walk to the gallery on Friday, a good three-mile route to clear my thoughts, talking to Kirstin as I go. She works to train my inner negotiator, supporting the effort as my sale, not the gallery's, and one I should own and take pride in. She wants me to be operatic about it, show Patty that I want Patty to have this painting, that, for some unchecked reason, I have spent the night imagining Patty and her family eating beneath this painting as it fills a dining room, that I can see Patty's grandkids playing underneath it in their living room, her own kids taking photos of the scene and shoving them into albums they'll revisit in twilights. This painting is not a painting, but a blush of magic to inherit.
I almost say then and there that this will be the last weekend I work, when I remember the only reason Kirstin's in Texas.
"How's your brother?" I ask.
"He's fighting," she says. "The doctors say he's making progress, but—hard to tell."
"You told me he loves a fight," I say.
"He does. He's tough."
When we hang-up, Kirstin has left me with a final piece of instruction: to go into the storage embankment of the gallery's kitchenette and fish out enough pieces of plywood and packing moss to arrange in front of other paintings.
"Make it feel like things are flying off the wall," she says.
However, arriving through the back, I see Patty is waiting out front. The gallery doesn't open for another half hour, but I make a show of opening it all the same and inviting her in, offering coffee. In the back, I have to literally remove the Keurig machine Michele gifted us from its box and get it going, as both Kirstin and I hated the taste. All the while, Patty is determined to comment on everything.
"Did you move down here from Michigan to work with this artist? No!" she says, as if guessing my birthday. "You came here for college."
"Neither," I said. "I had a good visit here once, and that was all it took."
"I love that," she says. "That's impulsive."
Bringing her coffee forward, cup and saucer, she is standing behind the desk beside the painting, looking at its backside. I set the coffee on the opposite side to try and shuttle her away from it, but she picks it up immediately so that we stand like clams in front of the painting.
"It's light," she says.
"Michele and her husband build all the frames. They use pine, but they insert metal dowels, so they stay lightweight and set at the corners," and I pull a smaller painting from the back to show her beneath the canvas.
"So sneaky," she says. "How'd we do on price?"
"So-so," I say. "Michele said we can cover the sales taxes, which knocks about a thousand off."
"Fourteen," she says, and steps back to admire it. I hear Kirstin telling me to paint her a scene, to explain the infinitude of art.
"Here's my dilemma," Patty says. "We obviously didn't drive down here in a cargo van, so to get this up to Montana will cost a bit."
"Montana. Not Tennessee?"
"This guy's going to the lake house," she says. "We have this giant ugly wall that's been open for months. It's driving me crazy whenever we're up there. If you can do fourteen with shipping costs. You have a deal."
"We've never negotiated shipping before," I say. "Let's do it."
"Yeah?"
"I'll pack it up today."
"Wonderful! My husband's going to think we were swindled, but I'll vouch for you," she says, her hand touching a smaller work of plexiglass art catching light in the window. "This is pretty."
"Here," I say, walking over and pulling it off. "As a thank you," and I take the square of color to the table to wrap.
"No, no, I couldn't," she says, but I wave her off, having watched Kirstin make the same gesture time and again.
"My husband wants to stop and see it, if you don't mind waiting a day or two to pack it up. What's the deposit?" she asks, unshouldering her purse.
I look to the table behind me where the credit card reader sits neatly out of sight, only revealed for times of purchase. However, I don't know how to use it.
"No deposit," I say. "We just need a copy of your credit card and license to hold it."
"Even better," she says, handing me her entire wallet.
*
Saturday morning, Jen drops me at the gallery, my face groggy and worn, having spent the night mostly out. There was another practice for the action, but it was only confirming head counts, with nineteen people set to die and another thirty slated to keep a perimeter. We spent less than an hour in meetup, before ending at several bars outside the quarter.
"Are you recommending a replacement to Kirstin?" Jen asked, holding a burger to her eyes as if using it to measure her mouth.
I shook my head no.
The job was one pulled blindly off Craigslist, a single interview, where I was told there were many others in consideration. When I was given the shot, it seemed like a moment to be proud of, until Jen pointed out that I was twenty days old to New Orleans, that it's unlikely I was competing against other sociology majors for the role, and I could easily have been mistaken for someone who might prevent a theft.
"Maybe she still has a list of the others she interviewed," I said.
Jen nodded, but the rest of the night I realized there was no way.
I decide that will be the effort I make on my final day, to scour Facebook pages and send group texts to try and recruit a batch of better names to pass along, when I find three voicemails blinking away. All hang-ups, minutes apart, from Michele.
On my phone, I have a missed call from Kirstin an hour earlier, along with a text to call her when I make it in.
"So, Michele's not happy," Kirstin says. "It's the free shipping. Apparently, it made her feel commodified."
"But you said I could go as low as twelve," I say. "This is over thirteen after shipping."
"You don't have to tell me. You did everything right in my eyes, this is just a sticking point for her I never thought to mention. I walked into the same trap years ago."
"Ok," I say, sensing there's more in her voice than a hiccup.
"I hate this, I really hate this. Michele wants me to let you go. She thinks it's not the right fit any longer."
I stay silent, realizing there's a gap of relief where there should be self-doubt.
"Do I still get the commission?"
"Do you still—of course! That is your sale. I would never let that be taken from you. I'm going to pad on a couple hundred for severance even. Least that I can do here. This is really, truly my fault for never saying."
"No, it's not a problem," I say, but catch up to the fact that I should not show joy either. "I know if this was your decision, you'd help me improve, and that's why I love working with you."
"Fuck. You're going to make me cry all over again today."
"Don't do that. In fact, I know a few people who might be a good fit, maybe I can leave you a list?"
"God you're gracious. That would be great. And I'm going to come straight in tomorrow to help out. This is all a lot of bullshit you're caught in."
"No, don't worry. You've been traveling all week, I'll clean up," I say.
"Then, lunch! Thursday, lunch on me, we'll go anywhere you want. Jen, too."
*
When Jen makes it to the gallery, she's dressed in total contrast of the bodied streets, black pants, black turtleneck. This ensemble agreed to in order to help contrast those dying-in, who will be dressed in the same white as the attendees having spent the last several hours ingratiating themselves to the crowd.
She walks in as if gasping for air.
"Christ, it's too hot for these clothes," she says, and hands over a bag of my stuff to change into.
"Fast," she says. "Everyone's already down there."
I had texted Jen everything earlier, but reiterate it all start to finish as I lock up, recess the lights.
"I swear you could fall into a well and not break a bone," she says.
"What?"
"A stranger comes in and basically gives you a thousand dollars, then you decide to quit, and rather than having to go through the awkward part, you're going to get a lobster and extra money."
I pull a long-sleeved shirt over myself.
"I don't really like lobster," I say.
"The point is you're lucky."
At Julia and Camp, everyone is already gathered, spare dots of allies once indistinguishable from the crowd now form a small black hole into which we join, and people around us are just beginning to take notice of this phenomena when the music fades. First one DJ, then another. On their cues, we form a wide ring and begin to fill in with the bodies of the dead, reposed in serried order, so that they look like tally marks on the pavement.
At each turn—those of us fending off patrons—we announce which minute we've entered, making the exhaustive lead up to seventeen all the more paralyzing.
Around us, some shout or try to muscle their way in so they can walk between the bodies, but enough of us are linked together and they don't press farther on. A few of the patrons readily accept what's happening and they stand stilly by, some even removing sunglasses, hats, in respect, even though the sun can barely keep its head above the buildings at this hour.
At minute twelve, when the agitation feels full-blown, several of the black borders move toward the papered helicopters that sit at the center of the bodies. They split open the packaging tape that's held the balloons inside and remove the small weights keeping their landing skids in place. Above us all, yellow balloons come together by the dozen like two displays of sun and slowly lift the helicopters.
At fifteen, the wind coming off the river begins to collide, rocking them about like aerialists in fight. We all watch as the bodies below make it to their feet. They place their hands above their heads one at a time, until they all stand with their arms stretched skyward, their souls handed over.
At seventeen, they form a line and begin to walk away as the rest of us gather anything left over, bags and shoes and headbands, the material that could not transport, and we follow them toward City Hall.
Jen and I stand at the far end of the circle and are the first to begin picking things up. Others follow behind, and my arms are filled with the many garbage bags that had kept the helicopters covered when I look up to find Patty. She is dressed in a white tank top, long flowy pants that flap like bedsheets. Beside her, her husband is in jeans and a white polo. She says nothing to me as we stare into the other, her talkative way subdued. I start past her and her husband as Jen takes my arm and pulls me forward.
*
In previous years, Kirstin explained they used to go all out for White Linen. They hired performers, hosted open bars, held silent auctions to sponsor GNOF. After several years of investing, no reputational payout made its way back to them. This year, Kirstin wasn't even offering discounts, the gallery kept its normal hours. Falling asleep, it occurred to me there was nothing to clean up, nothing to do, other than googling how to run a credit card.
Waking up, however, I remember Patty's husband had wanted to see the painting in person, that I would have to call and offer to see them, to stand in a hollow room and let whatever was said find echo.
Jen is asleep as I get going, and I steal her keys in lieu of the walk.
After speeches at City Hall, the group disbanded as normal. Kirstin and I were still beat from the night before and made dinner at home, occasionally checking the news but not even a line item covered the action. Though, this was expected; if actual death isn't legitimized, its simulacrum should not be either.
A few friends texted where they had found the helicopters, one of them treed itself only a street away, but the other had floated an odd path and made it all the way to Jackson, an impressive half-mile journey. On my phone, the picture of the second was sitting upright in the neutral ground. I couldn't tell if they'd propped it up or if maybe it landed exactly right. I imagined its descent as a seedling, spinning uncontrollably into earth, where it would slowly expel a fan of roots, which would grow from ghostly to dense to sprawling, something small made immense.
Pulling up to the gallery, I realize I left the wrong set of track lights on all night, so that the space was illuminated but artwork facing onlookers was not. Coming in from the garage, I reverse the lights and unlock the door, in case Patty should appear in off-hours.
Instead, I find a package leaning against the wall of the vestibule that's open to the street. It's covered in newspaper, sloppily, no tape, but I know it immediately by shape. Picking it up, the piece of plexiglass I'd given Patty the day before slides right out, slightly dewed. She must have unwrapped to show her husband and immediately tossed away the brown paper I had tied it off in. It's even clear looking at the folds of paper she had tried to recreate the same envelope I'd created in front of her.
On its surface is a Post-it that reads simply: deal's off. All lower-case, no punctuation.
I wipe the piece with the inside of my tee shirt and replace it in the window, rearranging the two others alongside it so that they pose symmetrically to the outside.
At the desk, I clear the voicemails without listening; I find the few pens for which I can take credit for chewing and toss them out; I clear the browsing history of the computer back to its factory date; I run a paper towel over the keyboard, mouse, display. In the only folder I have out are Patty's photocopies, one of her license and one of her credit card, both pages complete with our initials, stacked like bunk beds. At the time, we'd joked this would stand as a citizen's notarization.
I take the copy of her credit card and press it into the shredder. But I hold the license in my hand, unable to do the same thing. Instead, I cut it out from the page and reread the details: name, date of birth, expiration.
I fold it into my pocket and feel my blood returning.
__________________________________
Excerpted from "Tethys" from The Great American Everything by Scott Gloden. Published by Hub City Press. Copyright © 2023 by Scott Gloden. All rights reserved.