Once again, on Friday, President Joe Biden toured the site of a mass shooting — this time in Lewiston, Maine — and renewed calls for "common sense" gun reform.
The week before, an incident that claimed 18 had almost proved devastating enough to bridge the bipartisan divide between state lawmakers on gun control. Almost.
During a press conference in the immediate aftermath of the attack, Rep. Jared Golden, a centrist Democrat representing Maine, called for a total ban on assault weapons — an about-face from a congressman who'd previously opposed such legislation.
"I have opposed efforts to ban deadly weapons of war like the assault rifle used to carry out this crime," he said. "The time has now come for me to take responsibility for this failure, which is why I now call on Congress to ban assault rifles."
Flanking him was Sen. Susan Collins, a centrist Republican who, in contrast, shied away from any significant calls to action on guns.
She instead pointed to Maine's active "yellow flag" law as the answer. She claimed the measure — which allows police to remove a person's guns if a medical professional deems them at risk of "serious physical harm" and a judge signs off on it — should have been enough to stop the shooting before it happened.
"The fact that the suspect was hospitalized for two weeks for mental illness should have triggered the yellow flag law," she said. "He should have been separated from his weapons."
Her statement highlighted the shallow nature of the one-of-a-kind law, which requires an improbable set of circumstances and harmony between three separate entities to take effect. Over the following week, reporters learned that the shooter, Robert Card, had indeed been previously hospitalized over mental illness after "hearing voices" and threatening to "shoot up" a local Army National Guard base. Local law enforcement had been documenting concerns about him for months, and a friend in his Army Reserves unit worried he was "going to snap and commit a mass shooting."
Card seemingly ticked every box for setting Maine's yellow flag law in motion, and yet he was still able to carry out the state's deadliest shooting on record.
There are a lot of changes U.S. policymakers could make that have been credited with stopping mass shootings in other countries: banning assault-style weapons, buying back existing weapons, enacting universal background checks, mandating waiting periods after gun purchases and implementing magazine size limitations for example.
But so far, red flag laws — policies that provide a method for regular people to separate an individual from their weapons — have been one of the only substantive policies to garner bipartisan support in the states. And they've seen some success: Florida, for example, enacted one after the devastating 2018 Parkland school shooting. Judges there have invoked it thousands of times, according to CNN.
But it is an uphill battle. Maine tried to enact a red flag law and created a new, flimsier category, which Republicans like Collins hold aloft as evidence of action.
How 'Red' Became 'Yellow'
In the first six months of 2019, one gunman took 13 lives at a Virginia Beach municipal building, and another ended six lives at an Illinois manufacturing plant. One man shot and killed five people at a Florida bank, and three days later, another person murdered another five at two Louisiana churches.
That summer, Maine state legislators debated guns or whether the state government should be able to take them away. Mainers generally carried a more permissive view of gun control, given the state's tradition of hunting and residents' perception of safety. So, while state legislators considered a red flag law, they rejected it.
Instead, a compromise with moderates and conservatives produced a law that was similar in theory but harder to implement in practice.
Red flag laws generally work by giving a judge the power to issue a protection order against an individual, called an Emergency Risk Protection Order, allowing police to seize their firearms. Often, the person's friends or relatives will ask the court to do this out of concern for the individual's mental health, but law enforcement can also initiate the process. The judge must then agree that the individual is at risk of hurting themselves or others.
Many states in the Northeast — New York, Massachusetts, Connecticut and Rhode Island, among them — have these laws on the books.
To critics, though, the proposal raised concerns over "due process," or constitutional protections against wanton action by the government. The Constitution explicitly states that the government can't infringe on an individual's life, liberty or property without "due process of law." Essentially, critics, including the National Rifle Association, have argued that red flag laws made it too easy to take away someone's guns and too easy for someone to do it in bad faith.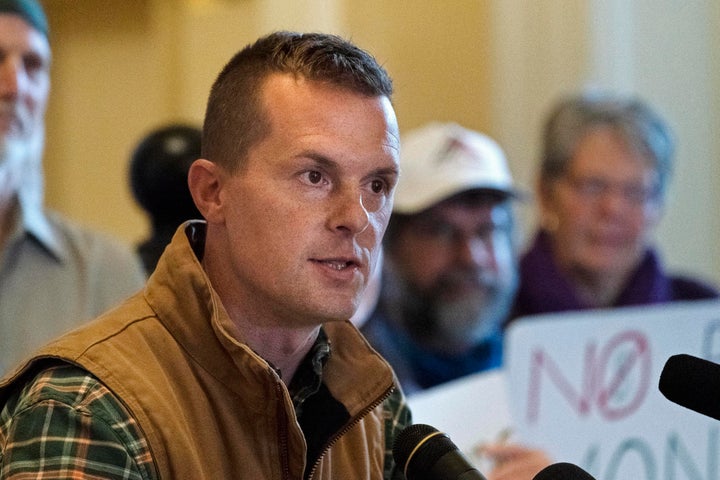 The Sportsman's Alliance of Maine, an outdoor advocacy group, helped Maine lawmakers pass a bill meant to address those concerns, Maine Public Radio reported.
(The Sportsman's Alliance did not return multiple requests for comment from HuffPost.)
For a Maine judge to issue a protective order separating an individual from their firearms, police have to do a lot more work. A friend or relative can tell police that they are concerned about someone, but it's up to law enforcement to agree to place the individual in protective custody and have them evaluated by a medical expert, who needs to agree that the individual is at risk of harming themselves or others.
"It created obstacles that did not exist in the states that have red flag laws," said Margaret Groban, a former federal prosecutor who now teaches firearms law at the University of Maine School of Law.
Asked about the due process concerns, Groban told HuffPost, "I don't accept those as valid."
Red flag laws already provide the opportunity to argue one's case before a judge, and judges are used to evaluating claims made in other contentious settings, she said.
"These are done under penalty of perjury," she said of the red flag requests. "The same argument is made in the protection order context, that people will make false accusations, and they will manipulate that for either a divorce proceeding or a custody proceeding or something like that."
"It's up to a judge to determine whether or not there's sufficient evidence," she said, adding, "They should be able to see through that."
After the Lewiston shooting, Democrats in Maine — which has a Democratic trifecta — have indicated they will look at gun control again next legislative session.
States are being actively encouraged to pass red flag laws. The gun safety package passed by Congress in 2022, around a month after the mass shooting at an elementary school in Uvalde, Texas, contained incentives for such legislation.
If the recent past is any indication, though, that will be a tall order.
Former Arizona Gov. Doug Ducey (R) once voiced support for such laws, but in 2020, he declared, "As long as I am governor, there will be no red flag law in the state of Arizona." Ohio Gov. Mike DeWine (R) backed off support for a red flag law in 2019, just a couple of months after a shooter killed nine people in Dayton. Tennessee Gov. Bill Lee (R) has faced stiff opposition from GOP colleagues to a red flag law this year after a shooter took six lives at Nashville's Covenant School.
On the national stage, the fight for gun control has also been stymied by Republicans. Universal background checks would close a gaping loophole that allows people who fail a background check from a licensed dealer to simply buy one from a private seller; the Biden administration has attempted to tackle the problem in a roundabout way amid Republican stonewalling. A federal bump stock ban — enacted by the Trump administration — is currently being challenged in the courts; the Supreme Court agreed this week to take up the case. And the kind of national ban on assault-style weapons Biden has called on lawmakers to pass seems dead in the water.
Polling repeatedly shows strong support from Republican and Democratic voters for tighter gun control policies — if one there was the political willpower to actually do it.
Andy Campbell contributed to this report.