Phenylephrine, a popular ingredient found in many over-the-counter cold medicines, is an ineffective decongestant when taken orally and works no better than a placebo, an independent advisory committee to the U.S. Food and Drug Administration said Tuesday.
The 16-member panel voted unanimously that the ingredient — found in some versions of common products like Sudafed, Mucinex, Benadryl and Vicks — is completely useless when taken in oral pill form. The FDA will next have to decide whether the drug should be taken off store shelves.
"This drug and this oral dose should have been removed from the market a long time ago," panel member Jennifer Schwartzott, a patient representative from New York, said Tuesday. "The patient community requires and deserves medications that treat their symptoms, safely and effectively, and I don't believe that this medication does that."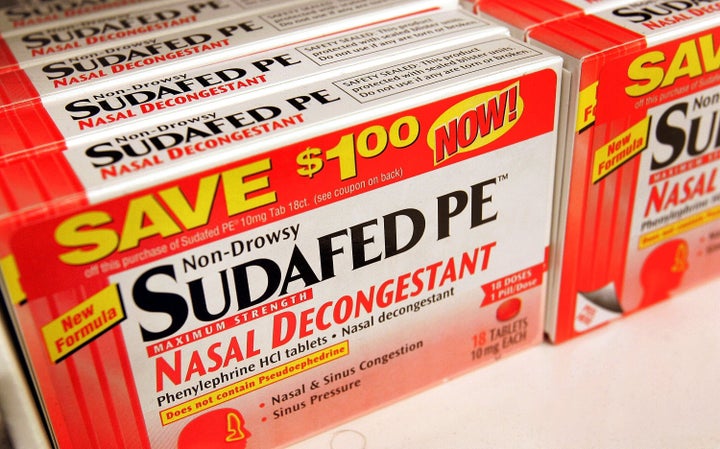 The panel made its conclusion after considering a scientific review by the FDA on the drug's effectiveness. The panel's members said that no additional data or studies are needed to prove phenylephrine's ineffectiveness. The drug, which the FDA said was first approved for use decades ago, didn't undergo the same rigorous standards of testing that medications must face today.
In considering the financial impacts of removing the products from store shelves, members argued that patient safety should be paramount.
"If I have to balance finance versus patient safety, I will take patient safety any day of the week," said panel member Diane Ginsburg, associate dean for Healthcare Partnerships at the University of Texas at Austin College of Pharmacy.
Fellow panel member Maryann Amirshahi, a medical toxicologist at the National Capital Poison Center, recommended that the FDA provide consumers with guidance on what to do with oral medications they have at home that contain phenylephrine and said they should be advised on which products to use instead.
Consumers should also be made aware that it is more of an efficacy issue rather than a safety issue, she said.
The potential harms in continuing to take phenylephrine include unnecessary costs, delays in proper medical treatment, people consuming more of the drug than advised due to failed relief, and for some, potential allergic reaction, the FDA's review found.
The review also considered that consumers may not want to stop using phenylephrine. They may not like using alternative nasal sprays, or know how to obtain the decongestant pseudoephedrine, which is sold behind the counter in pharmacies due to its misuse as an ingredient to make methamphetamine. Some people may also believe that taking phenylephrine orally does help them, leading to frustration or anger if they are no longer able to purchase it, or they could switch to other treatments that have their own risks and limitations.
This story has been updated to clarify that not all Sudafed, Mucinex, Benadryl and Vicks products contain phenylephrine.