CNN —
US President Donald Trump kicked off his presidency announcing an "America First" hard-line approach of governing. And after several executive orders signed within his first week, he seems to be on track to see it through. But growing tensions between the United States and Mexico are not all that await President Trump when it comes to Latin America.
As leader of the free world, he also faces a deepening recession in Brazil, an economic disaster in Venezuela, a desperate migrant crisis in Central America and potential return to frosty relationship with Cuba. Here's a preview of the headaches that await:
" data-check-event-based-preview="" data-network-id="" data-details="">
NAFTA explained
02:19 - Source: CNN
"When the US sneezes, Mexico catches a cold."
It's a well-known catchphrase that sums up the close ties the neighboring countries share.
Now, Mexico is trying to stave off pneumonia as tensions between the United States and Mexico are on high alert within the first week of Donald Trump's presidency.
On Thursday, Mexico President Enrique Peña Nieto canceled his meeting with Trump after the US President announced sweeping measures to begin construction on a border wall that Mexico has repeatedly expressed no interest in having or paying for. The White House later announced Trump wants to impose a 20% import tax on goods from Mexico to pay for the wall, effectively ending the North American Free Trade Agreement.
"Mexico doesn't believe in walls. Our country believes in bridges," President Nieto said before canceling his meeting. "Our border should be our best space for living together – a space of shared safety, prosperity and development."
On top of plans to build a wall and deport undocumented immigrants, President Trump is also threatening companies in Mexico with a 35% "border tax."
Trade experts say a Trump tariff on Mexico would cost jobs on both sides of the border. But it would be especially painful for Mexico, which sends over 70% of its products to the United States. Trump's threats are already a major reason why Mexico's currency, the peso, is near an all-time low.
Trump hasn't said exactly what he wants in a new trade deal with Mexico, just that it better benefit US workers. He blames NAFTA for an exodus of US manufacturing jobs to Mexico. Congressional research found that NAFTA didn't cause massive job loss. Still, Trump plans to get tough on Mexico.
Mexico doesn't plan to take any threats lying down. Its economy minister said the government would respond immediately to any trade actions Trump imposes on Mexico.
Venezuelans suffer from chronic food and medical shortages, leaving many to starve and some to die in hospitals lacking basic supplies.
At the core of Venezuela's problems is an economic crisis caused by massive government overspending, mismanaged resources, low oil prices and government corruption. The International Monetary Fund projects Venezuela's economy will shrink 6% this year and inflation will soar 1,660%.
"Venezuela has not only become an economic problem, but a humanitarian concern," Alejandro Werner, the International Monetary Fund's director of the Western Hemisphere, said Monday at the Council of the Americas.
"Walking back all the destruction that's happened will take several years," Werner said.
On top of its domestic crises, Venezuela has increasingly relied on China and Russia for aid in exchange for cash and weapons, adding to its geopolitical importance. The once wealthy nation has the most oil reserves in the world.
Trump criticized Venezuela's socialist president, Nicolas Maduro, on the campaign trail for oppressing Venezuelans. And his administration could be getting tougher on Maduro. Trump's secretary of state nominee, Rex Tillerson, butted heads with Maduro in a feud over oil when Tillerson was CEO of ExxonMobil. Tillerson could bring that same strong-arm approach to Venezuela as America's top diplomat.
Despite bad blood with Tillerson, Maduro has hesitated to criticize Trump so far.
"He won't be worse than Obama," Maduro said at a news conference on January 17. "Let's wait and see."
" data-check-event-based-preview="" data-network-id="" data-details="">
Cuban immigration policy ends
03:43 - Source: CNN
Since the election, Cubans have wondered what the Trump presidency will mean for the communist-run island and whether former President Barack Obama's landmark opening with Cuba will survive.
During his second term, Obama re-established diplomatic relations with Cuba after more than 50 years, made history by becoming the first US president to visit the island since the 1959 revolution and ended the so-called "wet foot, dry foot" policy that allowed Cubans who reached the United States to stay there.
Many Cubans are hopeful that Trump will restore their special immigration status, but so far he has not given any indications that migrants from Cuba would be exempt from his stringent anti-immigration policies.
During the presidential campaign, Trump shifted from saying he agreed with the Cuba opening, even if he would have negotiated "a better deal," to then promising to scrap the new détente with Havana if Cuba's leaders did not allow greater political and religious freedoms.
After Fidel Castro's death in 2016, Trump in a statement signaled he would take a harder line on Cuba.
"Fidel Castro's legacy is one of firing squads, theft, unimaginable suffering, poverty and the denial of fundamental human rights," the statement said, referring to Castro as "a brutal dictator."
So far Cuban officials have taken pains to avoid criticizing Trump and are waiting to see what the new President will do before returning to the adversarial relationship of the Cold War.
But Trump's choice of Rex Tillerson for secretary of state seemed to indicate that dealings with Cuba will be much chillier in the new administration.
"Our recent engagements with the government of Cuba wasn't accompanied by any significant concessions on human rights," Tillerson said during his confirmation hearings. "We have not held them accountable for their conduct. Their leaders receive much while their people receive little. That serves neither the interest of Cubans or Americans."
" data-check-event-based-preview="" data-network-id="" data-details="">
Thousands of migrants trek Latin America to US
04:34 - Source: CNN
Tens of thousands of migrants trek across South and Central America every year and those dreams aren't likely to end with the Trump presidency. They take buses, trains and boats – braving huge swaths of uninhabited swampland, criminal gangs and hunger – in the hopes of making their way to the United States, where they dream of a good job and a better life.
After Trump's election, there was a surge in migrants fleeing violence in Honduras, El Salvador and Guatemala, trying to make it across the border before tougher controls are imposed by the new administration.
With Trump vowing to begin building a wall along the US-Mexican border, the bottlenecks at border crossings across the Americas are expected to get worse.
The stakes are even higher when it comes to Cuban and Haitian migrants. When thousands of Cubans abandoned their homes, they expected to take advantage of decades-old special immigration privileges extended to those who made it to US borders, the so-called wet-foot, dry-foot rule.
But their lives were upended when Obama eliminated the policy on January 12, just days before the end of his second term. Cuban migrants accumulating along American borders are pleading with President Trump to take them in as political refugees, as part of his pledge to take a hard-line stance against Cuba's Communist government.
For the tens of thousands of Haitian migrants who fled poverty and hunger in the wake of the 2010 earthquake, the outlook is bleak. Many took advantage of humanitarian visas extended by Brazil at a time when its economy was booming.
But with a deep recession that has dragged on for two years, many Haitian migrants began to look north to the United States, which had started allowing Haitians in after the earthquake. That moratorium on deportations was lifted in September. But not before some 40,000 Haitians, according to the US Secretary of Homeland Security, began the monthslong journey toward the United States.
Now, thousands of desperate Haitians are also camping out along the southern borders. Thousands more are getting stuck at border crossings throughout Central America, sparking fears of a big spike in human trafficking.
" data-check-event-based-preview="" data-network-id="" data-details="">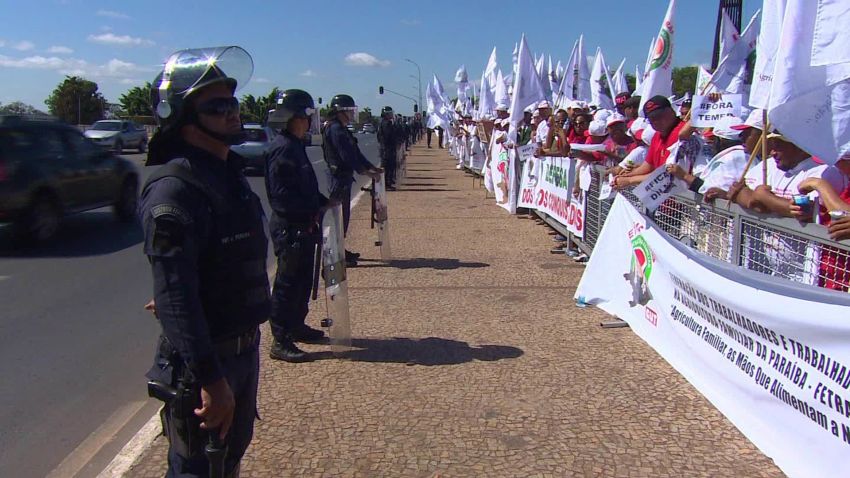 Brazil struggling with political and economic crises
03:16 - Source: CNN
In Brazil, a massive corruption scandal implicating politicians in all the leading parties, as well as a two-year economic recession, has Brazilians calling for their own version of Trump.
"There is a lot of discontent in Brazil," said Joao Augusto de Castro Neves, Latin America director for the Eurasia Group consultancy. "The common denominator is anti-establishment sentiment. The political class is not delivering."
Joao Doria, also a former host of Brazil's edition of the reality TV show "The Apprentice," was elected mayor of Brazil's biggest city, Sao Paulo, in a landslide. A political outsider, Doria built his own successful business and promotes conservative social values. But he hasn't exactly warmed to the nickname "The Brazilian Trump," telling local media he would have voted for Hillary Clinton if he'd lived in the United States.
Then there's Jair Bolsonaro, an outspoken congressman who has defended the military dictatorship, which ended in the 1980s. He is doing well in polls for the 2018 presidential election despite often outlandish outbursts on Twitter and on the congressional floor. Bolsonaro is an avid admirer of Trump, tweeting his congratulations on Inauguration Day.
But there are many things about Trump that don't go down well with Brazilian voters these days: Populism and protectionism are out of vogue. Many see free trade and market-friendly policies as the solution to soaring unemployment and inflation.
It's still too early to say if the Trump presidency will help or hurt the ailing Brazilian economy.
On the one hand, all emerging markets could take a beating if the world's biggest economy puts up barriers to trade as part of Trump's declared focus on "buy American, hire American." But unlike Mexico, Brazil doesn't have a major trade agreement with the United States, so it has much less to lose.
In fact, analysts say Brazil, along with China, could benefit from Trump's decision to pull out of the Trans-Pacific Partnership trade agreement and question NAFTA. As Latin America's biggest economy, there is room for Brazo; to negotiate bilateral deals.
"This could be an opportunity to redraw its strategic neighborhood," said Eurasia's Castro Neves.
In the end, the biggest challenge for Brazilian President Michel Temer might not be the new administration to the north, but the ongoing bribery and corruption investigation at home. Top politicians have been found guilty of taking bribes from construction companies and others in exchange for helping line up lucrative contracts with the state-run oil company Petrobras and passing beneficial legislation in Congress.