We were wearing headlamps and winter boots, stomping through the dark as the water poured in a deluge overhead. I scooped up my laptop, swaddling it like a baby in a blanket and passing it to my daughter who stood waiting on the stairs; my son rescued the touch-screen monitor, wrapping it in large towels; my husband swiped up the speakers, telephone, the roller-ball mouse, covering everything as we ducked and hurried down the stairs while the rain continued to pour in the dark.

It felt like a monsoon, but we were not outside, there was no wind or sky; we were in my writing studio on the second floor of a water tower. Whenever I do creative work, I do it with two, two-hundred-and-fifty-gallon tanks of water overhead.

That night, the pump had been left running for twenty minutes past the overflow point. We ran back and forth, rescuing items. Even though the pump was off now, water continued to pour in streams through the ceiling boards overhead. We couldn't turn on the lights for fear of electrocution, and it was winter in northern Wisconsin, so we couldn't bring anything outside to dry. By the time we went back up to drag out the soggy rug, the sound of the dripping that smacked against my desk, my chair, my books along their spines, had slowed to a percussive littering of wet plops.

Water is an element that spells death to all things writing—books, notebooks, journals, even the scraps of paper that litter my desk when I'm in the throes of a project. I know this because my office has flooded several times. But I keep going back up there because it's the only place on our property where I can write uninterrupted behind a closed door.

It's also a rather romantic space.

Built by the previous owners, the water tower is a slim, rectangular edifice that sits on the high point of our land for optimum water pressure. My office resides on the second floor with a view of the trees all around. The space inside measures ten by ten, and although the windows on all four sides get encrusted with ice every winter, I feel held in the treetop branches and boughs. I work to the sounds of croaking frogs in the spring, birdsong in the summer, and water whooshing through the pipes that run vertically in the corners. Every two or three days when the tanks run dry, we pump water up from the ground using our low-draw solar pump, and I hold my breath, watching the pipes tremble and glisten from the rumble of the water's roar.

There are many reasons why my space floods: mechanical malfunction, equipment breakdown, and human error. The first time it happened was when the shut-off timer failed to turn off the pump. That year, it seemed everything broke, including the water pump itself. Our kids were both under the ages of five, and the cumulative damage to my office space was so bad, and my husband and I so overwhelmed, we had to close it down.

For many years after that, I wrote in the living room with a pair of headphones on, and I lit a candle to signify to my kids that, "I am not to be interrupted unless you are bleeding." This was far from ideal. We're talking about thirty-minute stints here, after which the house would be a mess.

When I finally got desperate enough to face the damage in the tower, everything had to go. Family and friends chipped in for new books by authors whose company I absolutely required: Kent Haruf, Leif Enger, Peter Geye; Lauren Groff, Elizabeth Strout, Louise Erdrich, Cheryl Strayed. My sister-in-law sewed me insulated curtains against the blowing cold. My husband built me a staircase so that I could access the space without having to use the outside stairs, which were constantly getting clogged with snow.

It's heartbreaking what trying to create does to a person, even if you don't work in a water tower.

The new space, the size of a cockpit with stunning views of the woods, allowed me to work at 4 a.m. without waking the kids, and to conduct interviews with clients during the days. My writing space became my favorite place, my income grew, my office became invaluable, and the tanks overflowed, again.

The most difficult part about the flood on that particular winter night was that that I'd spent ten years on a novel that I'd decided was just about done. My manuscript had been laid out across my desk, three-hundred-and-some-odd pages scribbled painstakingly with notes, edits, and rewrites for new scenes. This rewrite was to be the final draft before I sent it out in search of an agent. My family had lovingly pegged every one of those pages to the clothesline, hoping they would dry, and they had. But the writing on them had washed out and become illegible.

It's heartbreaking what trying to create does to a person, even if you don't work in a water tower. For years a writer toils in obscurity without anyone caring; we wring our hands over the right word, the best opening, the cadence of every sentence. It's so difficult to get published, and then when you do finally land an agent and get a book deal, your novel debuts into a post-pandemic world where journalists have lost jobs, reviews are scarce, publicists overworked, and indie bookstores are having to evaluate—for both financial and health reasons—whether to host your event at all.

For those of us who create for a living, the threat of failure looms always overhead. It's not just water that can break your spine, but criticism, ridicule, imperfection, and shame. The time it takes to create: years. The time it takes to destroy: seconds. No one who makes anything in this world is immune.

What writing under constant threat of water does is to hasten my brazenness because now, I understand that writing and publishing are two different things. Poet William Stafford says it this way: "What one has written is not to be defended or valued, but abandoned: others must decide significance and value."

When I find something through this process of writing that's valuable to me, I'm eager to get it out in the world because it's safer there than sitting in my tower. The threat of water reminds me that I'm working to get published not just for recognition, and not because I'm better than other writers, but because I might say something differently, and someone might read that, and understand this particular thing that they have never understood before, and that might be of value to them.

And so I am working, always as fast as I can, to get these words out before the next flood.

__________________________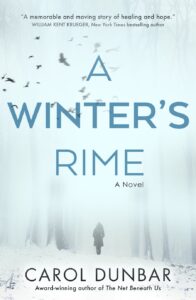 A Winter's Rime by Carol Dunbar is available now via Forge Books.
---