Tracy K. Smith's To Free the Captives: A Plea for the American Soul is available tomorrow, so we asked her a few questions about her readers, when she writes, and her favorite book to recommend to others.
*
Who do you most wish would read your book?
People who are weary of the limits of our conventional logic, our habitual terms of regard. People who would like to believe that the imagination is capable of re-inventing our relationships to one another and institutions.
What time of day do you write?
During the school year, I tend to write early in the morning, from 4:30 or 5am until 7am. With the rest of my family asleep, I feel that my thought process can swell to fill the entire downstairs of our house. And there is something glorious about being able to watch dawn come on, or to write oblivious to daybreak and then suddenly look up to realize it is light outdoors.
What part of your writing routine do you think would surprise your readers?
Meditation has become a part of my writing process. And when I am meditating, I am giving thanks and also very much asking for guidance, for input, for the ability to hear and feel the presence of ancestors and my own higher self. I'll sit and close my eyes and get into the rhythm of unhurried breathing. I'll watch the swirling image patterns behind my closed eyes, and accept as purposeful the feelings and ideas that often emerge from this process. Writing can be so lonely. The whims and needs of ego can be so destabilizing. Listening out beyond my own known self gives me the feeling that I am porous, and that I can think in dialogue with another larger intelligence.
What's a book you recommend to other writers?
I have been sharing Ama Codjoe's Bluest Nude quite a bit lately. It's a collection of poems that engages quite vigorously and viscerally with a lot of visual art—thinking its way into different actions, subjectivities, and whole new vocabularies for love, vulnerability, gratitude and resistance. This book convinces me that the serious labor of liberation can and must be undertaken joyfully, especially in the face of the dehumanizing violence and intolerance in constant circulation. Love can and should underpin all of the work we commit to.
If you weren't a writer, what would you do instead?
I hope I would be a mystic or a monk.
______________________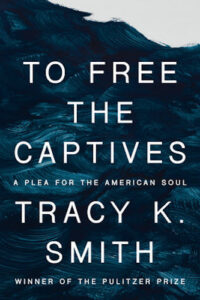 Tracy K. Smith's To Free the Captives: A Plea for the American Soul is available November 7 from Knopf.
---