Zakiya Dalila Harris's debut novel, The Other Black Girl—about an editorial assistant named Nella who discovers something sinister going on at the company—was an instant bestseller when it hit shelves in 2021. Now, Harris's daring, propulsive story is playing out as a series adaptation at Hulu. To celebrate, we asked Harris what it was like to be part of the translation process, her surprise cameo, her favorite book-to-screen adaptation, and more.
*
How does it feel to see your characters come to life on screen?
It really is the most surreal feeling—kind of like watching my children grow up into teenagers, get jobs, and start living their own independent lives. This story has been growing inside of my brain since long before I actually started writing it, so seeing these themes and characters in human form is really something. So is the fact that I got to be such a big part of the translation process. I've always loved television, but becoming a TV writer was never something I'd considered until producers started expressing interest in adapting the book.
What's the best part of having your work adapted for TV?
Can I have two best parts? Part one has been the knowledge that this story will find a larger audience, and hopefully spark even more conversations than the book did. So many readers have told me that this book caused some pretty riveting book club discussions. Even people who've expressed that they don't like the book tend to have an opinion about it in some way—its (often controversial) ending; its flawed antagonists and flawed protagonists; its otherworldly twist—so I'm excited to see what kind of debates the show sparks.
The second-best part has been getting to see so much melanin (and so many melanated hair styles!) in one show.
What's your favorite book to screen adaptation (other than your own)?
The 1990 adaptation of The Witches. I know Roald Dahl didn't love the film's rosy ending, and I completely get that. But I saw it at an impressionable age, maybe around seven, and fell in love with it immediately, even though I wouldn't read the book until a few years later. That scene when all of the witches take off their disguises at the witch convention still gives me chills to this day, as does the story Luke's grandmother tells him about her childhood friend being trapped in a painting by a witch. Plus, Jim Henson! Anjelica Huston! Mr. Bean! Just an all-around first-class production.
If you could see any book adapted, what would it be?
I just finished listening to the audiobook of Grady Hendrix's How to Sell a Haunted House and I loved it. It's wonderfully narrated by Mikhaila Aaseng and Jay Aaseng, and I could picture the entire story happening in my head, crystal clear. But what I loved the most about it is that it's so much more than a haunted house or creepy AF doll story. It's about estranged siblinghood and the family narratives we create over time. The dialogue is super snappy and hilarious, but the book also made me teary. It just hits on so many different levels, and I think it would lend itself really well to the screen.
What notes or pieces of inspiration for the story/characters did you share with the showrunners?
One of our earliest discussions was what it means to be a "good Black person," and the way this pressure affects Nella versus Hazel, and—with the older timeline—Diana versus Kendra Rae. We talked publishing a lot: the hierarchies I saw while working in book publishing, and articles/tweets that were coming out about both the rise and fall of diversity in the publishing world last summer. We discussed Severance and the eerie specificity of its office environment. And of course, we talked horror: the prom pig's blood scene in Carrie; the aforementioned de-masking scene in The Witches; gaslighting in movies like Rosemary's Baby… so many things!
If you could play a minor role in the adaptation, what would it be?
I'm actually in an episode that I wrote, which was completely unplanned—at least on my part! We were maybe two-thirds of the day through when the director of the episode, Mariama Diallo, turned to me and asked if I wanted to be in the next scene. Not gonna lie, I panicked at first. I was like, "Are you sure?" I was positive I was gonna trip over a cord and accidentally hurt somebody or break something—I'm a behind-the-scenes gal 100 percent. But my task was simple enough, and thankfully I'd come to set wearing clothing that was appropriate for the scene I'd be in.
Now, I'm really glad I did it. It was fun to get to be in a scene, and a pivotal one at that. Brownie points go to whoever spots it first.
What's the hardest part of having your book adapted for TV?
I think the hardest thing is having my world open up a little bit more. When the book came out, I was suddenly in a limelight that I never deemed possible, and the show is turning that light up a little brighter. It's cool and all, but also, like I said above: I'm a behind-the-scenes gal. More specifically, I'm an extroverted introvert who enjoys her privacy. So navigating this additional attention has been a lot. But I'm figuring it out.
How was your relationship with the book changed during the process of adaptation?
I made a deliberate decision very early on in this process to tell myself, The book is the book, and the show is the show. This meant making an active effort to separate myself from Nella; otherwise, she wouldn't be able to grow, or fit seamlessly into 2023. At first, it was a little daunting, knowing that many specifics about the book would likely change because some things just don't translate to screen. But overall, the changes felt organic, and seeing them play out in the finished product has shown me that this story—and all stories—are pliable. Not everything needs to be adapted. But with the right team and the right intentions, an adaptation can not only build upon the original work, but add to it. Being so closely involved with the adaptation process was a very humbling experience, and it's made me see the book and creative collaboration in an entirely new light.
___________________________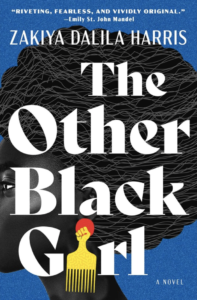 The Other Black Girl is available now from Atria Press.
---